Fall means pumpkin and apple recipes galore!  If you are looking to try something easy, quick and delicious, Hasselback Apples are for you.  They taste like apple pie but look a little more unique, would be great to serve when  guests are visiting, and could easily be made gluten-free.  I served my apples with homemade whipped cream, but ice cream or caramel sauce would also go well with these Hasselback apples.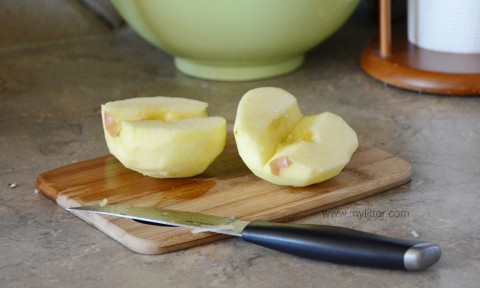 Start by peeling the apples (something I let my 4 year old do), then cut in half and remove the core.   (There are some really neat tools available to help you with this!)  Place the apples flat side down in the greased pan and then put slices all around the apples, being careful not to completely cut through them.  I accidentally did on a couple and just pushed them together when I was done.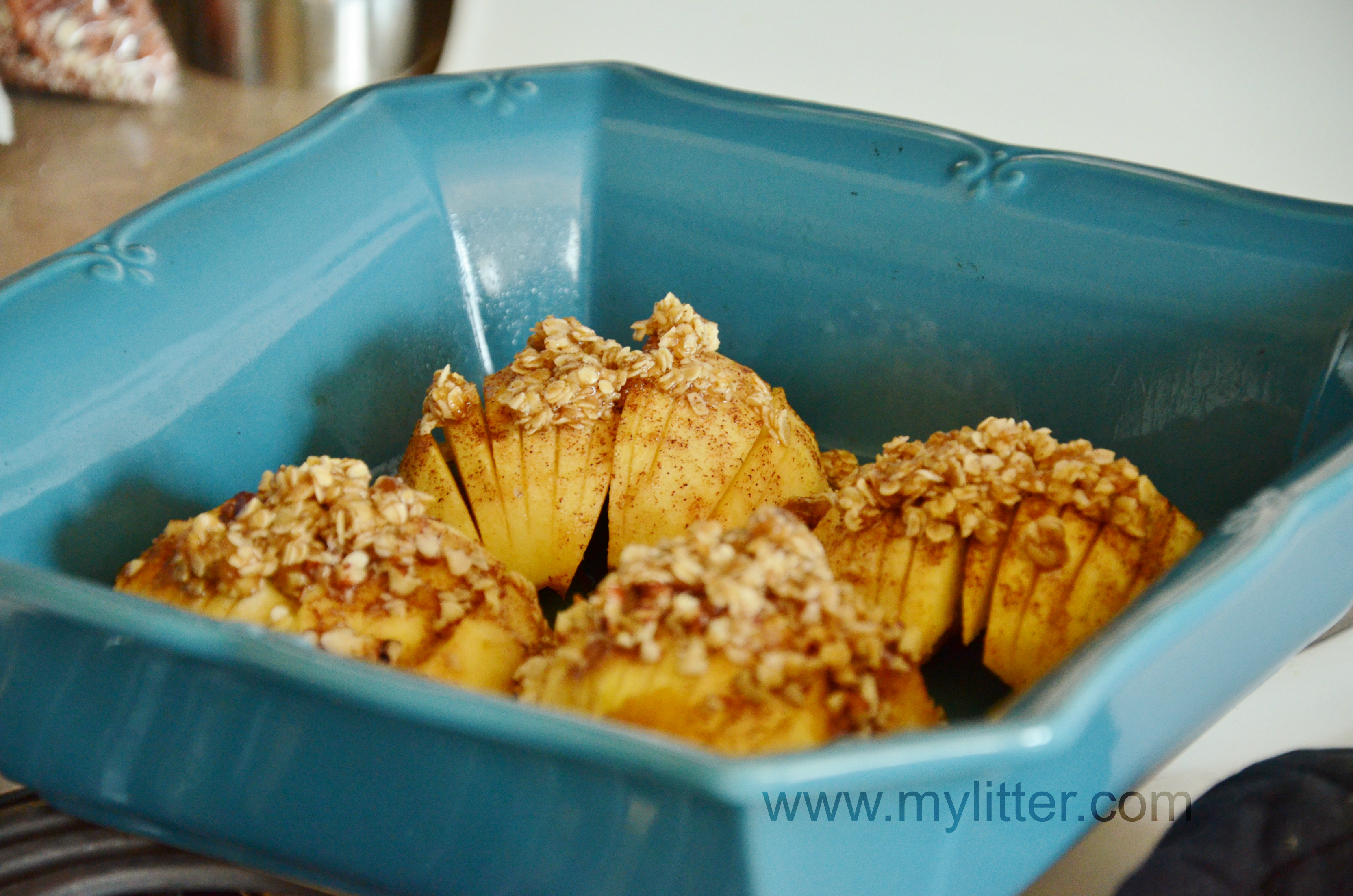 Mix together the sugar, butter, cinnamon and brush evenly on the apples. Put foil over the pan and bake at 400.  While those are baking, mix together the oatmeal, sugar, butter and flour (omit the flour for gluten-free and add extra oats), and finely chop the pecans.  Remove the foil and bake for another 10 minutes or until the apples are soft.  Pull them out and let them cool for a few minutes.  Once they have cooled, add the topping into the sliced part of the apple.  Bake them for another 10 minutes, and then if you're crazy enough make homemade whip cream or test taste your ice cream for quality control.  After 10 minutes, turn the broiler on and toast everything for about 2 minutes.  Super easy.
Pull them out, let them cool a little, top with whipped cream and enjoy a fairly healthy, delicious autumn snack.  I would definitely do more than just 2 apples next time-they were SO good that I almost ate all of them by myself.
Other things that would be good on top include raisins, walnuts, caramel sauce, and chocolate chips.  Get creative!
Hasselback Apples
Ingredients:
2 large apples, peeled, cored, and cut in half
3 tbsp butter, melted and divided
4.5 tbsp of brown sugar, divided
¾ tsp ground cinnamon, divided
2 tbsp finely chopped pecans
3 tbsp old-fashioned rolled oats
¼ tsp salt
1 tsp flour
1 1/2 cups whipped cream
DIRECTIONS
Preheat oven to 400 degrees.  Peel, then cut apples in half, removing the core. Slice almost all the way through the apples at about 1/8 inch intervals. Place apples flat side down in a greased 8×8 baking dish. Mix 1 tbsp sugar, 1 tbsp butter and 1/2 tsp of cinnamon together and put evenly over the apple halves. Cover with foil and bake for 20 minutes. Remove foil, bake for 10 more minutes or until the apples are tender. Remove from oven and allow to cool. Combine the remaining sugar, butter, cinnamon, oats, flour and salt. Gently open the apple slices and spoon the topping onto the apples. Top with pecans. Bake uncovered for 10 minutes, then broil on high for 2 minutes. Remove from oven and serve with whipped cream.