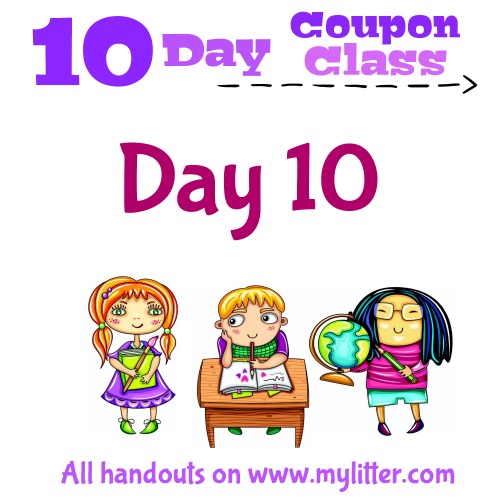 OK so we have made it 10 days! Today we are going to be talking about meal planning and menu planning! WAIT, WAIT, WAIT… don't tune me out yet!!! I know it sounds a little boring…. but I promise if you read through today's info, you will be so happy that you did!!
You can check out my menu plans HERE.
If you have missed any of the days, you can check them out below:
Day 1 – Getting Started
Day 2 – All about coupons
Day 3 – Organizing Coupons
Day 4 – Creating a stockpile
Day 5 – About Grocery Stores
Day 6 – CVS & Walgreens
Day 7 – Walmart
Day 8 – Target
Day 9 – Resources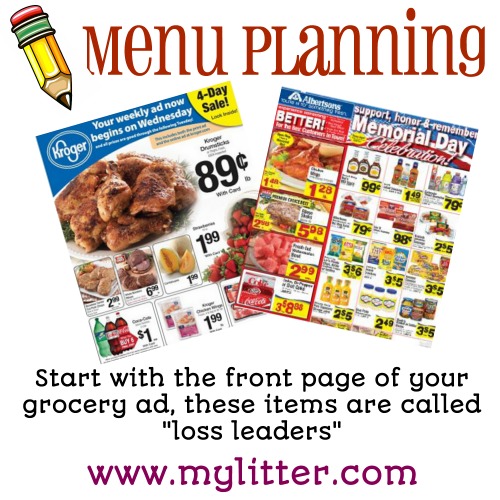 Yesterday in the mail, you should have gotten your grocery ads. If you don't in the mail, you can pick them up at the store, or look at them online.
This is a good time to look at making a menu plan for the week. Take notice what is on the front page. These are the things the store wants you to see to get you in the store, they are called "loss leaders" and stores are willing to take a loss on them for you to shop there.
PLAN your meals starting with the protein on sale on the front pages of these ads. Since the biggest part of my budget is spent on meat (protein) fruits and veggies. I try to make sure that I am getting my meat/protein as cheap as I possibly can. If I didn't get it from Zaycon, I got it from the front page.
* More on Zaycon in a minute…
Because the biggest part of my budget is on meat/produce/fruit I want to get the best deal possible on those items. That is why I typically shop off the front page of my ads.
One of the questions I get asked the most is how do you save on meat and produce. Go to http://bit.ly/zayconvideo to see a  video of how to store my chicken from Zaycon.
Meat – I use Zaycon. Zaycon is a company that delivers super high quality AWESOME fresh meat to your area cutting out the middleman and saving you a TON of money. To order, you must be registered (link is in my bio)  and already be logged in to your account. On the main "My Account" page, scroll down the list of upcoming events, find your preferred event and click on the "Click here to place an order" link. Buying in bulk is one of the ways that I save a lot of money on food. You do not have to have a large chest freezer to store this much chicken. Also, consider splitting an order with a friend or neighbor.
The chicken is 100% natural chicken with no added hormones, additives or artificial ingredients, and will be priced around $1.84 a pound!!!
Produce – One of my favorite ways to save on produce is from Bountiful Baskets. They are a volunteer run food co-op where you are able to pick up weekly baskets of fresh produce. If there is not one in your area, you can actually get one started with their help!
I wanted to write up a post on how to save money on produce for a long time. We just go through SO much produce all year round, that much of my food budget goes to fruits and vegetables!
Plus, what kind of Mother would ration produce from her children? This one has!
There are also not very many coupons for fruits and vegetables! How do I save money on produce? A few different ways. By finding some coupons. Target occasionally has Target store coupons for produce, WATCH for them! You can also type "produce" into the coupon database and see what is available.
Find a discount grocer: Thankfully, we just had an Aldi's open near us and I have been able to get some awesome deals there. they are a little farther away, but worth the drive a few times a week.
Start a fruit and Veggie Co-Op: This might be scary, and you might not think about doing it yourself, but if I can do it you can easily! Find the closest grocery district and check the prices and quality of the different grocers, get a group together and develop a schedule. Click HERE for how we did ours.
Looking for Organics?: Many grocery stores carry a big variety now, so you can start there. Also check out Local Harvest to see what is in your area as far as farmers markets go. I LOVE farmers markets! The veggies and fruits always seem to taste better and look better! Let your kids pick out things they have never had before to try.
Farmers Market or Grocers Market: We have a number of farmers markets in our area. But if I want to do some driving I can head into downtown to the actual grocers markets where the restaurants and stores buy their produce. It is a really cool experience, and you can save a lot of money, but I just don't have the time to do it!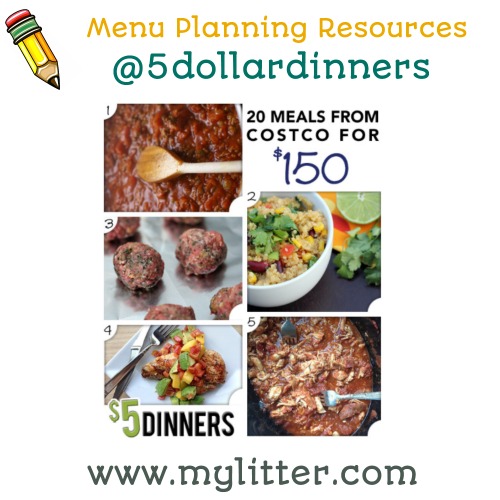 Take notes!! We can't possibly do everything alone. There are people out there that do a great job of what they do and for meal planning that is @5dollardinners if you are not following Erin Chase you are missing out!! She is the master at meal planning and she helps you do it too! Oh, and she will be on The Today Show THURSDAY morning talking about meal plans!
I have done many free menu plans as well that you can check out HERE.
$5Dollardinners helps you do just what the site is called, she can help you make your meal plans with your meals costing just as little as $5! Below is a list of all of the pre-made, menu plans that Erin has listed currently. Erin offers the complete grocery shopping list, as well as complete recipes with ingredients broken down to make it easy for you.
Erin's Menu Plans: