This Sunday I strayed from my menu plan because I felt like cooking and ended up with an AWESOME meal! Paul made the BEST Pesto Flank Steak, and the kids helped with some really good side dishes!
One that is a favorite is Bacon Cheddar Corn Bread. You can make this as a loaf or in a 8×8 pan. We did an 8×8 this time.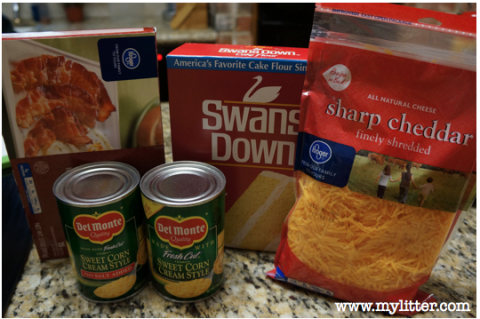 This is a simple and easy side dish to make. Plus you probably have all the ingredients in your pantry already.
The Cake flour makes it really light and fluffy.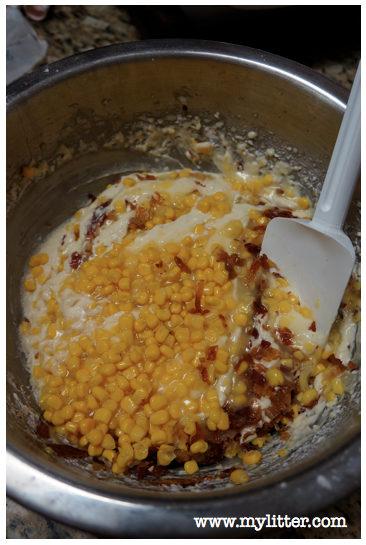 This is so simple my kids are pretty good at mixing it up without any help!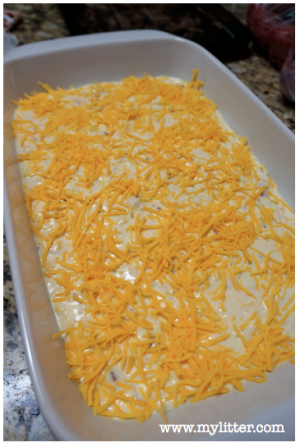 I doubled mine today and used a 9×13 pan.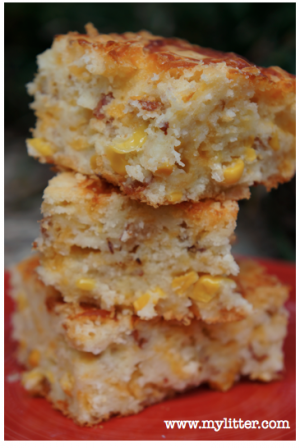 Give it a try! It is so easy!
Bacon Cheddar Corn Bread 
Ingredients:
1 3/4 cup all-purpose CAKE flour
3 tablespoons sugar
2 teaspoons baking powder
1 teaspoon baking soda
3/4 teaspoon salt
1 cup buttermilk
2 large eggs
1 can creamed style corn
1 can drained canned corn
8 slices bacon, cooked, drained, crumbled
1 cup (4 ounces) shredded sharp Cheddar cheese
8 tablespoons butter, melted
Preparation:
Heat oven to 375°. Grease an 8-inch square baking pan or spray with baking spray or a regular loaf pan.  In a large bowl, combine the flour, sugar, baking powder, soda, and salt.In a small bowl, whisk the buttermilk with eggs and butter, corn. Stir into the dry ingredients until blended, then fold in the crumbled bacon and cheese. Top with a little more cheddar cheese and bake for 35 minutes in 8×8 pan. Or 45 minutes in a loaf pan until done.
Bake for 20 to 25 minutes, until golden brown.