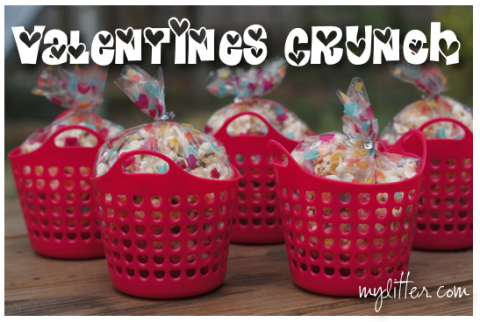 Last night my girls and I made Valentines Crunch. It is REALLY REALLY easy and you can make it suite any holiday by changing just a couple ingredients. Just happens we had Valentines candy hearts
 and M&M's
. I bought the mini laundry baskets at the Target dollar spot and they were the perfect size! (Or you can use these popcorn favor boxes too)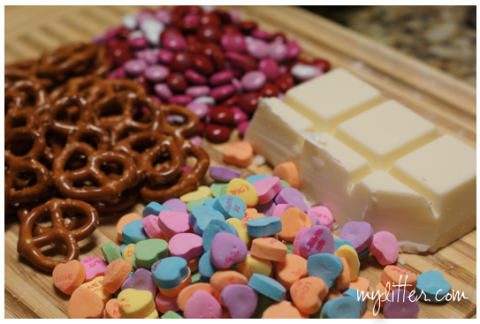 For this recipe you need:
3/4 block white chocolate
2 cups M&M
2 cups candy conversation hearts
2 cups mini pretzels
8 cups popped corn
I always use air popped (you can get this highly rated
air popcorn popper here
), but I am sure you could use plain microwave as well. Pop popcorn and melt white chocolate in the microwave. When melted pour over popcorn and use a big spatula to mix all together quickly. Add M&M's and other toppings while the white chocolate has not started setting up. Fold all together.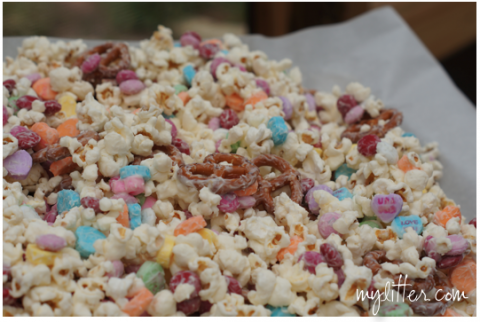 I pour mine out onto some wax paper and let it harden. Then you break it up into pieces and store in an air tight container. I packaged mine in little gift bags. This stays good for a week or more in bags!
You don't have to use the same toppings as I did, you can use anything really! This is a GREAT recipe for the kids, mine love to make it and give it away!
More Favorite Recipes:
White Chocolate Peppermint Popcorn Recipe