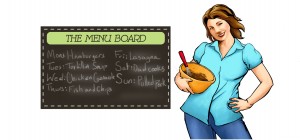 Technology is truly an amazing thing. I had the most amazing last few days with my most favorite people on the planet ( my family :)) and with the kids asleep in the car heading back home, I am able to blog from the front seat of my suburban while my husband drives. Now i just need to keep from getting car sick!
I have a feeling I will be doing a lot of laundry this week and recovering so I am keeping it light. Plus, Paul reviews the recipes in the All You magazine so he has dinner a few times this week. Yea!
Monday: Harvest Soup. Easy and I have everything already.
Tuesday: Orange and Balsamic Chicken Breasts, from March All You magazine.
Wednesday: Something easy, we have a ton of stuff on Wednesday's… I think we will have Egg Salad sandwiches and fruit salad.
Thursday: Fish Tacos. I like to use mild fish like tilapia and corn tortillas. I bake the fish until done and add shredded cabbage, tomatoes and a little salsa.
Friday: Pizza! Friday tradition. If you have not tried my pizza dough recipe it is really good, if I do say so myself!