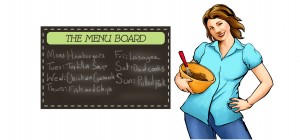 This week I have to take a little break from chicken 🙂 I had it all weekend! If you want to send over some recipes or leave them in the comments of meals and dishes that your family like I would really appreciate it. Also, if you have any suggestions as to what kinds of meals you are looking for leave a comment as well.
** Also, 3 of the recipes call for Worcestershire sauce this week so make sure you have some!
Monday – Grilled Pork Loin Chops – Get your pork loin chops at Randalls/Safeway this week, they are on sale for $1.49 a pound. I am not heating up the grill but using my Grill Pan HERE that I love! We will have a salad and probably apple sauce for the sides. Plus there are a lot of coupons that came out this weekend for the ingredients!
Tuesday – Sloppy Joes or Manwiches – I prefer to make my own Sloppy Joes!
Wednesday – Angel Chicken – I couldn't totally skip chicken this week!  I have wanted to try this recipe forever and so I can't wait! All you need is some brown rice and maybe a salad!
Thursday – Stuffed Bell Peppers –  If you think your kids won't like this, just serve them the filling inside the peppers. I have not met a kid that doesn't like hamburger and rice! Serve with mashed potatoes as a side or salad.
Friday – Homemade Pizza or try Pita Pizza.
Sloppy Joe Recipe from my Grandma Davis
1 lb ground beef
2 -3 stalks celery , chopped
1 small onion , chopped
1 (8 ounce) can tomato sauce
1/4 cup ketchup
1/4 cup barbecue sauce
1 tablespoon firmly packed brown sugar
1 teaspoon yellow mustard
salt and pepper
1 tablespoon Worcestershire sauce
1 tablespoon vinegar
Directions:
In a large skillet, brown ground beef, celery and onion.

Drain the fat.

Stir in remaining ingredients, simmer covered, 15-20 minutes, stirring occasionally.

If Joes appear too'loose', leave cover off and let moisture evaporate.

Cook until it's the consistency you like for serving on toasted buns, with french fries and cole slaw.
Printable Shopping List