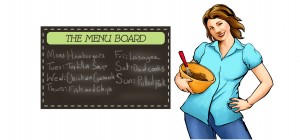 Good morning!!! I have to get my butt back in gear because this not having a plan for dinner is really getting annoying! I hate scrambling at the last minute and I need to buckle down and save some more money, and this is the way to do it.
Here are some free printables if you need them:
The first thing we are going to do is see who has the best prices this week on the protein part of our meal, because that is where I spend the most of my food budget. * if you do NOT have the same grocery stores as me, do not worry! just grab your ads or look them up online and see who is the cheapest in your area! 
:: RANDALLS ::
80% ground beef $2.99/lb
Hillshire Farm Sausage 2 for $6
:: KROGER :: 
Kroger boneless skinless chicken breasts $1.79/lb

* Stock up price 

Lloyd's Shredded BBQ $3.99 tub
Pork Butt Roast $1.49/lb
:: HEB :: 
Assorted pork chops $1.97/lb
Boneless chicken breasts $1.97/lb
Pork Tenderloin $2.97/lb
:: THURSDAY :: Crispy Cheddar Chicken –  I am getting chicken from Kroger at $1.79/lb. My little kids love this recipe and it is really easy, they even help me make it! Add a salad and maybe a roll and you have dinner for under $12!
:: FRIDAY :: Pan Fried Pork Chops – Tonight for dinner I am another Pioneer Woman recipe, like you can go wrong with that! These are super easy to make and even the kids love them! Plus pork chops are on sale at HEB this week.
:: SATURDAY :: Chicken Kabobs – Chicken is on sale this week at Kroger for only $1.79/lb. (get some extra to toss in the freezer for the next few weeks) The Lawry's marinade was also on sale for only $.49 and we love this stuff!!!  I am combining the 2 sales and making dinner for really cheap!! Add in a fresh salad and you have dinner for about $10!
:: SUNDAY :: – Chicken and Pork Tacos – I am going to toss some chicken in the crock pot while we are at church, heat up the leftover pork chops when we get home and have a taco bar! If you have not tried my Easy Chicken Taco recipe, you NEED to! Dinner for under $10 again!
:: MONDAY :: – Baked Potato Bar – The Lloyd's BBQ in a tub is on sale this week, and this is a favorite on baked potatoes at our house. I will have leftover from the tacos the night before, like cheese, sour cream etc. So, it will be perfect to add to the potatoes!
:: TUESDAY :: – Simple Sour Cream Enchiladas – Just as easy as it sounds, and with chicken on sale this week, we are having a lot of it! Add a salad and some fruit and you have another meal around $10!