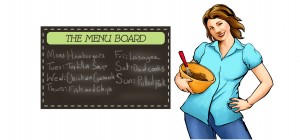 Here are some free printables if you need them:
The first thing we are going to do is see who has the best prices this week on the protein part of our meal, because that is where I spend the most of my food budget. * if you do NOT have the same grocery stores as me, do not worry! just grab your ads or look them up online and see who is the cheapest in your area!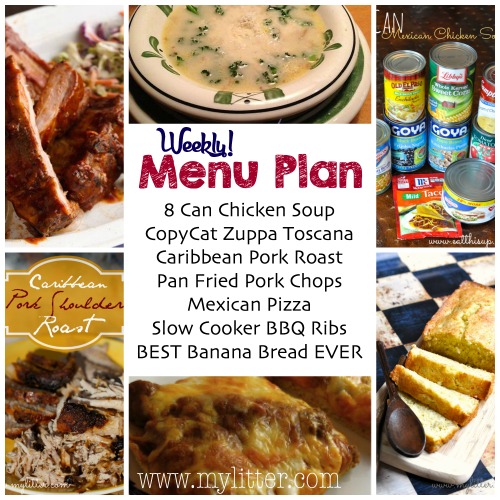 I am shopping at Kroger this week, they have the best deals for the items I am buying. Make sure to use the printable list of items you will need for each recipe at the bottom!
* Click "Display All Matchups" to see all the recipes lists.
:: KROGER ::
Del Monte Canned Veggies 10 for $10 and 5 for $3.
Duncan Hines Cake Mix 10 for $10
Rosarita Refried Beans $.98
Kroger brand Frozen veggies 10 for $10
Kroger Cheese $1.99
John Morelle Bacon 2 for $5
Chappell Hill Smoked Sausage 2 for $5
Pork Butt Roast $1.49/lb
Cantaloupe $.99
Organic Kale $.99
Center cut Pork Chops $2.99/lb
St. Louis Style Pork Ribs $3.49/lb
8 Can Chicken Soup – LOVE this super easy recipe! Grab some chicken, shred it, and then use the canned items on sale this week at Kroger for the rest! Super cheap and easy!
CopyCat Zuppa Toscana from Olive Garden – I have been making this for YEARS! Whenever sausage, bacon, potatoes and kale are all on sale at the same time, this is what I am making for sure!
Caribbean Pork Roast – This recipe takes a little time, but you will be SOOOO happy you made it!
Pan Fried Pork Chops – Been a staple at our house since I first read this recipe on the Pioneer Woman.
Mexican Pizza – Super easy and cheap to make, refried breans and ground beef are on sale, so why not?!
Slow Cooker BBQ Ribs – My husband will love me, and I will love that I just tossed this in the crock pot!
The BEST Banana Bread EVER! – I couldn't help this one… Cake mixes are on sale for $1 this week at Kroger, and if you have not made my banana bread recipe you are missing out!!
*Make sure to check out the weekly store deals and coupon match ups. You can make a printable list to make shopping easier! Kroger list HERE, Randalls list HERE, HEB list HERE.