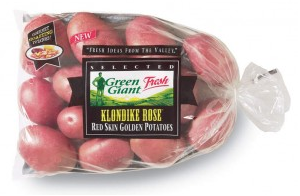 Get a BOGO Free Klondike Rose coupon HERE. This is a great coupon and might not last long, so quickly grab yours.
On the Klondike page where you get the coupon, there are some really good recipes and videos on what you can do with your potatos. The recipe that looked good today is the Ultimate Mashed Potatoes.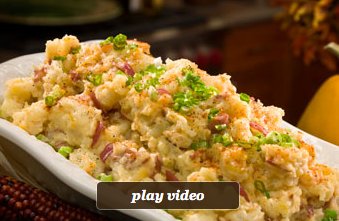 Ultimate Mashed Potatoes
1 lb Klondike Rose™ potatoes, scrubbed but unpeeled, cut into 1/2 in. cubes
1/4 cup blanched whole almonds
4 green onions, white parts and two thirds of the green parts, minced
4 tsp small capers, drained
16 large mint leaves, stacked, rolled like a cigar, and cut crosswise into thin strips
12 basil leaves, stacked, rolled like a cigar, and cut crosswise into thin strips
1/4 cup extra virgin olive oil
2 Tbsp sherry vinegar or red wine vinegar
1 Tbsp fresh lemon juice
1/4 tsp crushed red pepper
salt and pepper to taste
Directions:
 Preheat the oven to 350 degrees. Put the almonds on a small sheet pan or pie plate and toast for 17 minutes, or until browned but not too dark. Coarsely chop and set aside.

 Meanwhile, put the potatoes in a large saucepan with 2 quarts cold water and 1 teaspoon salt. Bring to a boil over high heat, reduce the heat, simmer for 20 to 25 minutes, or until tender. Drain. Cut the potatoes while still warm and put into a large bowl. Add the green onions, capers, almonds, mint, and basil. In a small bowl, mix the oil, vinegar, and lemon juice with the crushed red pepper. Season with salt and black pepper to taste. Pour over potato mixture and mix well. Allow to cool to room temperature.

 Taste before serving, as potato mixture may absorb some of the flavors. Add more spices if necessary.

 Serve with any grilled fish or meat or other simple entrées.