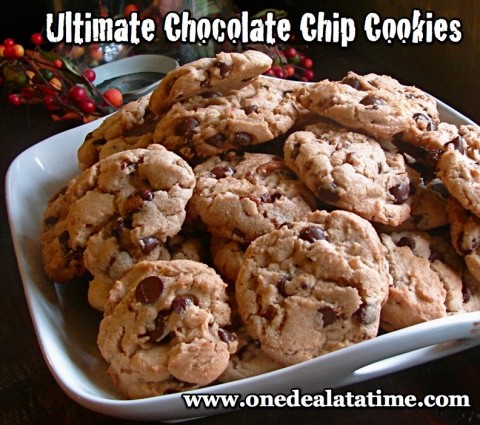 This is the recipe for The Ultimate Chocolate Chip Cookie Recipe! For the past few years I have just stuck with the same two recipes for chocolate chip cookies. Either the Nestle Toll House one on the bag, or the Neiman Marcus recipe if I have to make a LOT of cookies.
I thought I would try something new. I picked this one because I thought the combo of shortening and oil was a little different, since I only use real butter for cookies. They turned out really nice I think, they don't spread out, they stay chunky and have a shortbread consistency. The kids and Paul gave two thumbs up!!
Ultimate Chocolate Chip Cookie Recipe
Ingredients:
1 Cup brown sugar
1 cup white sugar
1 cup shortening
1 cup vegetable oil
2 eggs
2 t. vanilla
4 cups all-purpose flour
4 t. cream of tartar
2 t. baking soda
1 t. salt
2 cups semisweet chocolate chips (I used 1 cup Ghirardelli's + 2 cups semi-sweet chips and 1 cup chopped pecans)
Directions:
Preheat oven to 350 degrees. I an a medium bowl , beat together white sugar, brown sugar, oil and shortening until smooth. Stir in eggs, and vanilla beating well after each addition. Combine the flour, cream of tartar, baking soda, and salt, stir into sugar mixture. Finally, fold in the chocolate chips and nuts. Drop by big spoonfuls onto cookies sheet. Bake for 8 to 10 min. cool on sheet and remove.