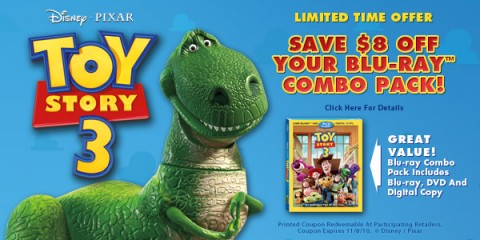 Alrighty kids! It is here! I have been hoping for this coupon…. go to Disney Movie Rewards and print yours QUICKLY before the print limit is reached! $8 off a movie is great, plus this is the combo pack which I like. I don't have a Blu-Ray player right now but I have a ton of Blu-ray movies because of the combo packs.
So where are you going to buy yours? I buy many of mine at Walmart the day it is released, that always seems to be a good deal.
Don't forget that if you didn't use the Campbells soup rebate HERE you can use it on the Toy Story movie.
Stay tuned, Suzanne is working up a sweet deal scenario for CVS with the coupon for this weekend!
Here are some deal ideas:
Target ( starting 10-31)
4 Disk Combo pack $24.99 or a Target exclusive 4 disk pack with talking Buzz Lightyear toy with a backpack that holds the disks for $32.99.
Use $8 off Toy Story 3 coupon
Final Price: $16.99 or $24.99
*They will price match a competitor's ad if the price is lower. ( Thanks My Frugal Adventures)
Disney Store
Toy Story 3 Blu Ray Combo Pack $26.99
If you go into the store and pre-order, you should receive either a $10 off anything coupon or a $20 off $40 purchase coupon. You will also receive a free 3D pictograph.
Then, go back to the store 11/2 to get your copy, use $8 printable coupon at that time.
Final Price: $18.99 and use your $10 coupon for whatever you want ( Thanks My Dallas Mommy)