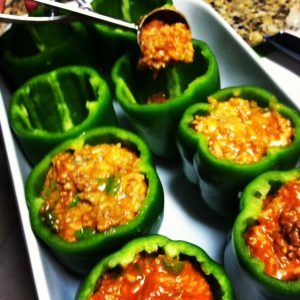 Yesterday I couldn't find anything for dinner and my son asked for Stuffed Green Peppers, how do you say no?! Randalls has peppers on sale today for $.78 each. Plus I always have ground beef and rice, so I figured I was safe.
I have a standard recipe that I always use, but I was out of tomato sauce and so thinking I was brilliant I used tomato soup! IT WAS AWESOME! I am never using sauce again!
Then on Facebook I thought I would tell you how brilliant I was by using soup and apparently a bunch of you already do that. So I didn't discover something new, just new to me!
Stuffed Green Peppers
Ingredients
1 pound ground beef
1/2 cup uncooked long grain white rice
1 cup water
6 green bell peppers
2 (8 ounce) cans tomato SOUP
1 tablespoon Worcestershire sauce
1/4 teaspoon garlic powder
1/4 teaspoon onion powder
salt and pepper to taste
1 teaspoon Italian seasoning
2 cups shredded cheddar cheese
Directions
Preheat oven to 350 degrees F (175 degrees C).
Place the rice and water in a saucepan, and bring to a boil. Reduce heat, cover, and cook 20 minutes. In a skillet over medium heat, cook the beef until evenly browned.
Remove and discard the tops, seeds, and membranes of the bell peppers. Arrange peppers in a baking dish with the hollowed sides facing upward. (Slice the bottoms of the peppers if necessary so that they will stand upright.)
In a bowl, mix the browned beef, cooked rice, 1 can tomato sauce, Worcestershire sauce, garlic powder, onion powder, salt, and pepper. Spoon an equal amount of the mixture into each hollowed pepper. Mix the remaining tomato sauce and Italian seasoning in a bowl, and pour over the stuffed peppers.
Top with shredded cheese.
Bake 1 hour in the preheated oven, basting with sauce every 15 minutes, until the peppers are tender.