So if you're like, well just about everyone, then you like those super festive falls and holiday scents like cinnamon, leaves, and more. All that family coming into town for the holidays may put a damper on your regular home smell but I am going to show you easy it is to make your own scented wax at home that will last forever. (Great way to use those old candles that you can't burn anymore!
Here's what you'll need
While you can see the full DIY Scented Wax Tutorial here, there are some easy tips for you to follow:
You CAN use old wax that has just lost its scent
If melting candles in the microwave make sure you remove the metal wick end
Dollar Tree does sell some wax melts in select locations
Get ice cube trays from Dollar Tree too!
You may also enjoy: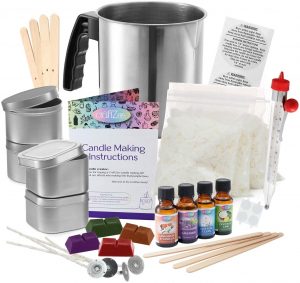 Complete DIY Candle Making Kit Supplies by CraftZee
Each set is packed with care and includes everything you need to get 4 beautiful candles: 4 dye blocks, 4 fragrances, 4-8 oz soy wax bags, melting pot, thermometer, 2 round candle tins, 2 square candle tins with covers, 4 cotton wicks, 4 glue dots, 4 Warning Labels, 4 Stirring Sticks, 4 Bow Tie Clips and instructions.

Whether you're a beginner or pro, this DIY kit makes it easy for boys and girls to fill the space with the heavenly scent and glow of homemade candles!


This kit contains enough tools to create 4 unique candles in different colors (red, orange, lavender, green) and scents (Clean Cotton, Lavender, Coconut Lime, and Cinnamon Vanilla).
Oraganix Natural Soy Wax for DIY Candle Making Supplies-10lb Bag with 150ct 6'' Pre-Waxed Candle Wicks
Candle wax is 100% soy wax will burn clean and smooth


Kit contains not just soy, but the wicks AND centering device needed to make sure your candle-making process is seamless.

Each wick is cut to 6" and pre-waxed for an efficient set and burn. Use the centering device to position your wick as the wax is cooling.
ForUBeauty 6 Pcs Candle Tin Jars 
Package: 6pcs tins with lids. Wax not included.

Size: 3 inch x 2 inch

Materials: Tin Jars, sturdy enough to not be squashed during delivery.

Use: DIY candle making, or storage sugar, coffee, tea, coins, soy, beeswax, as well as other storage and craft projects.

Great storage container for lotions, balms, craft projects, and other small items.
Kraft Paper Gift Tags 100 Count Set
Size: 7 cm x 4 cm (2.7" L x 1.6" W )

Tags are made with high quality 300 GSM paper card.

Great for Christmas gift tags, wedding favor tags, birthday gift tags, baby shower favor tags, or other place name cards. They also can be used as gift tags, confetti, scrapbooking embellishment, cupcake toppers, mason jar tags, handmade cards, cardboard labels or any other craft projects.

Come with a reinforced pre-punched hole with a jute twine attached and convenient to use.

Want more out of your Prime Membership?