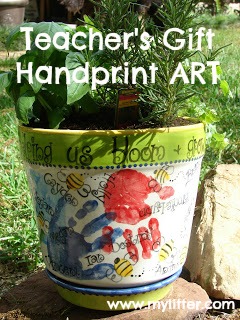 This year I wanted to make Herb Gardens for the Teacher's with kids handprint art on the pots. They turned out DARLING and I think we will be doing them again!
This is what I did:
I painted about 1/3 of the classes hands all different colors and randomly placed them on the pot. Next, I took the rest of the class and did their thumbprints in yellow for the bumble bees. I wrote their names next to their prints. When I got home I painted the yellow thumbprints into bumble bees and painted their names in black. I decorated the rim and painted, "Thank you Mrs. Varnum for helping us bloom and grow" around the rim.
Now, I glazed and fired mine in my kiln so it was all shiny and pretty so if you don't have a kiln handy ( like in your back pocket!) you could use a terra cotta pot and regular paint, like tole paint or acrylic paint. I think you would need to seal/poly it with something to protect it.
Twelve hours later when it came out of the kiln, I planted a little herb garden with basil, rosemary and cilantro that I got for only about $5 total at Walmart.
I wish I would have made these for Mother's Day for the Grandmother's, they turned out really cute and are something a little useful. I obviously would have used my kids handprints, maybe the dog and cats if I could have held them down 🙂
I only did the herb garden for the classroom that I was Room Mom for, but you could whip these out pretty quick and inexpensively.
My own kids are taking chocolate to their teachers and bus drivers. With 4 kids in school I had 16 different end of the year thank you's to hand out!
Do you give out thank you's at the end of the year? What do you usually give?
If you would like some ideas for thumbprint and handprint pictures, years ago I bought Ed Emberly's books and have used them HUNDRED'S of times! They are worth having on hand… They also make AWESOME teacher's gifts and I know the teacher's LOVE to get these books!
Calendar Kids Handprint Art Quilts – Marcia Layton
Ed Emberley's Complete Funprint Drawing Book – Ed Emberley
Ed Emberley's Fingerprint Drawing Book – Ed Emberley
Happy Hands and Feet: Art Project's for Young Children – Cindy Mitchell