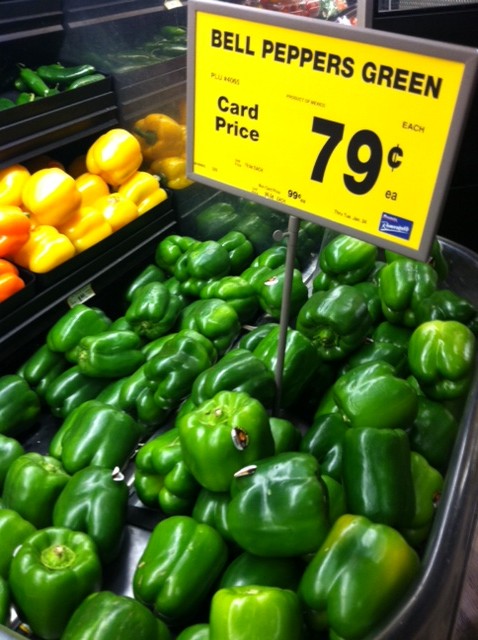 Tonight many of our ads switch over to the new ad, while I am excited about the mega event we will get at Kroger Wednesday,  I am sad for the produce deals at Randalls to be gone. I ran in yesterday to get bell peppers for $.79 each so I could make stuffed green pepper later in the week and they looked so good we had them last night. Which I know totally messes up my Menu Plan, but I think we will suffer through!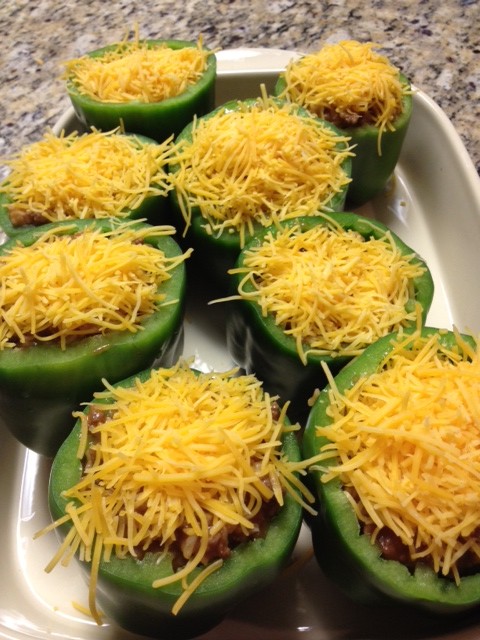 Some of my kids will eat a cooked green pepper and some wouldn't. I just made them eat the stuffing on the inside which they loved. I halved a few of these for the smaller kids and have an extra one to take for lunch today! Sweet!
To see my weekly menu plan go HERE
Stuffed Green Peppers
Ingredients
1 pound ground beef
1/2 cup uncooked long grain white rice
1 cup water
6 green bell peppers
2 (8 ounce) cans tomato sauce
1 tablespoon Worcestershire sauce
1/4 teaspoon garlic powder
1/4 teaspoon onion powder
salt and pepper to taste
1 teaspoon Italian seasoning
2 cups shredded cheddar cheese
Directions
Preheat oven to 350 degrees F (175 degrees C).
Place the rice and water in a saucepan, and bring to a boil. Reduce heat, cover, and cook 20 minutes. In a skillet over medium heat, cook the beef until evenly browned.
Remove and discard the tops, seeds, and membranes of the bell peppers. Arrange peppers in a baking dish with the hollowed sides facing upward. (Slice the bottoms of the peppers if necessary so that they will stand upright.)
In a bowl, mix the browned beef, cooked rice, 1 can tomato sauce, Worcestershire sauce, garlic powder, onion powder, salt, and pepper. Spoon an equal amount of the mixture into each hollowed pepper. Mix the remaining tomato sauce and Italian seasoning in a bowl, and pour over the stuffed peppers.
Top with shredded cheese.
Bake 1 hour in the preheated oven, basting with sauce every 15 minutes, until the peppers are tender.