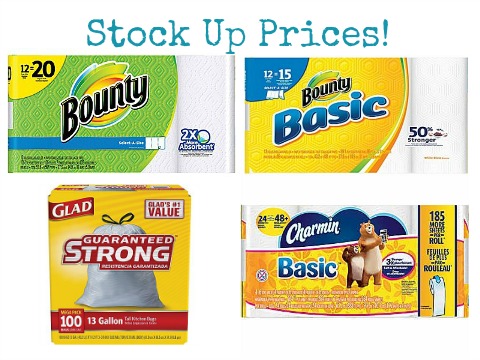 It's time to stock up on household paper products! Today only, Staples.com is offering some awesome deals on paper products you use every day for your home. Plus, if you're Staples Rewards member, you'll earn an extra 2-5% in cash back rewards plus enjoy FREE shipping on orders of $14.99 or more.
Of course, you can also opt for free in-store pick  up if it's available for your area.
Hot Deals on Household Paper Products
Here are a few deals you might want to add to your cart…
Puffs Basic Family Facial Tissues, 2-Ply, 180 count, 3 Boxes/Pack – Only $3.99 (regularly $7.99)
That's like paying only $1.33 per box!
Bounty Basic Select-a-Size Large Paper Towels, 12 Rolls/Case – Only $7.99 (regularly $16.99)
That's like paying only 67¢ per roll!
Charmin Basic 1-Ply Bath Tissue Rolls, 24 Double Rolls/Case – Only $8.99 (regularly $14.99)
Like paying only $0.37 per double roll!
Bounty Select-A-Size Paper Towels, White, 12 Mega Rolls = 20 Regular Rolls – Only $13.99 (regularly $24.99)
Like paying only only 70¢ per regular roll!
Glad Tall Kitchen Drawstring Trash Bags 13 Gallon, 100 count – Only $9.99 (regularly $14.99)
Like paying only 10¢ per bag!
Scott Choose-A-Sheet Paper Towels, 8 Mega Rolls (= 12 regular rolls) – Only $6.99 (regularly $10.99)
That's like paying only 87¢ per MEGA roll!
Marcal 100% Recycled Perforated Roll Towels, 2-Ply, 15 Roll Case – Only $10.99 (regularly $18.99)
Only 73¢ per per foll!
(Thanks, Freebies For A Cause!)
I love taking advantage of deals like these because I can stock up, have everything shipped for FREE and I don't have to haul it all home from the grocery store! Head to Staples now!