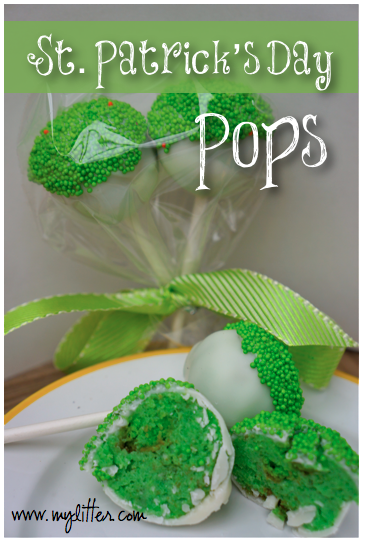 Awhile back I was a little obsessed with cake pops because I finally got the hang of dipping them so they look presentable and not a complete disaster 🙂 That's always the one key thing right? The kids and I made these the other day for fun and they turned out so FUN!
From Bakerella, how to make cake pops.  Go HERE to see how to make these! If you have NOT made them before, do not be afraid!
Shopping List:
Cake Mix
Candy Melts or Plymouth Pantry Almond Bark
Cake Frosting (1 Can should be enough)
Food Coloring for Cake Mix (optional)
Edible pearls/glitter (optional)
Here are basic instructions:
Make a 13×9 cake. Any flavor you like, just follow the instructions on the box. Let it cool. Crumble the cake (always fun for the kids) and add in 1 can of frosting. Throw it into the refrigerator for 15 minutes.
After refrigerating, dust off your Playdoh skills and form the mixture into balls (also fun for the kids). Then place a sucker stick into the top of each cake ball. Pop them into the refrigerator for another quarter hour.
While waiting, start melting your candy melts.
After 15 minutes in the fridge, dip and swirl each pop into your candy melt.
Once you've got an even coating on the cake pop, place the stick into a Styrofoam block while the candy melt shell hardens.
From Walmart, I use the Plymouth Pantry Almond Bark in chocolate or vanilla for $2.38 and melt it in the microwave. Then I take a frozen cake ball and and place it on a fork, with a spatula I spoon almond bark over it and tap the fork to get off the extra. Then with a knife I slide the covered ball off the fork and onto more wax paper. The almond bark dries fast and we put them in little mini cupcake paper holders.
The total cost is ridiculously low, about $.10 cents a cake ball. The kids package them 2 to a bag and wrap them up!
* For these green ones you can add mint flavoring…