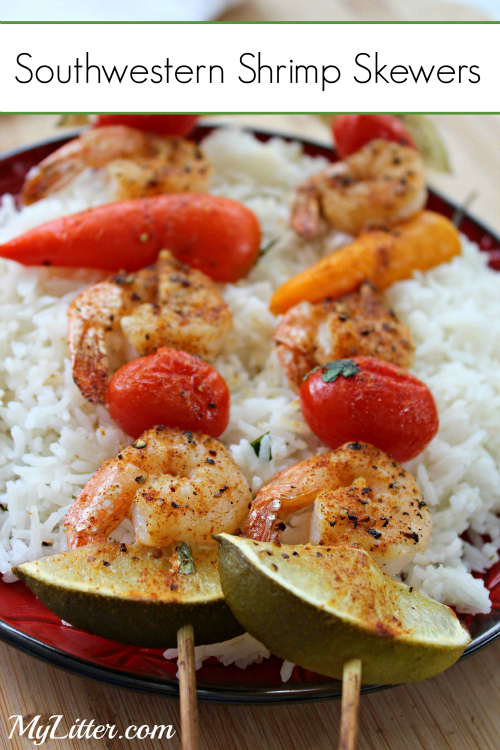 These delicious Southwestern Shrimp Skewers could be the perfect way to spice up your holiday celebrations. There is nothing wrong with adding a little something fresh and spicy to your holiday platters. You are going to love these delicious Southwestern Shrimp Skewers. They are super easy to make, take very little preparation (10 minutes or less) and taste absolutely divine!
The best thing about this recipe is that you can make it anytime of the year. Grill them up outside in the summer and bake them inside through the winter. Either way they are sure to be a major hit!
INGREDIENTS

1 lb Medium Peeled Deveined Shrimp
5 oz Cherry Tomatoes
2 Limes
4-5 small Peppers
2 tbsp Olive Oil
1/4 tsp Cayenne Pepper
1/4 tsp Cumin
1 tbsp chopped Cilantro
Sea Salt and Fresh Ground Pepper to taste
Skewers
DIRECTIONS

First preheat your oven to 400 degrees Fahrenheit. Lightly grease a Baking Rack
with a wire rack and set aside.
Take your 2 limes and slice them into 8 like sized wedges.
Split and remove seeds from each pepper. Place lime wedge, then shrimp, then tomato, then shrimp, then pepper, then shrimp, then tomato, then lime wedge on each skewer. Place your filled shrimp skewers on the greased baking sheet and drizzle with olive oil. Season prepared skewers with salt, pepper, cayenne and cumin.
Cook in the oven for 8-10 minutes or until shrimp are done. Remove from the oven and serve over rice and garnish with cilantro.
More Amazing Recipes:
Copycat Bonefish Grill Bang Bang Shrimp Recipe 
Marinated & Grilled Chicken and Shrimp Kabobs