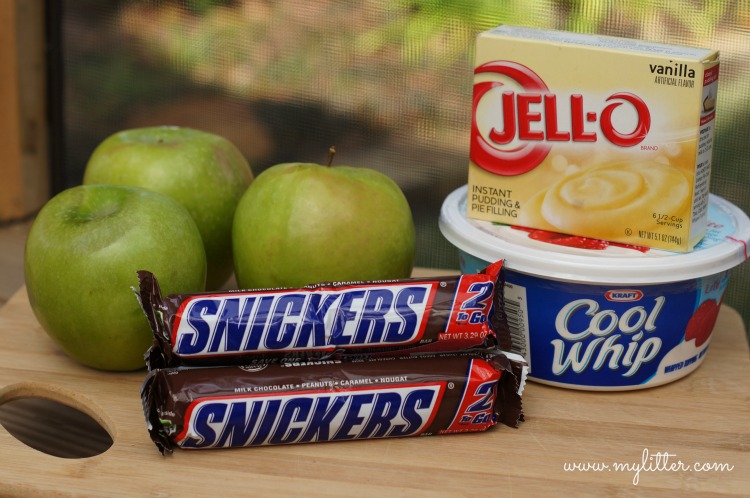 Looking for a cool no-bake dessert for these *HOT* summer evenings?  Try this Snickers Salad with Apples recipe I posted a while back!
Continuing with our no-bake recipe theme, the girls and I made a Snickers Salad with Apples and Pudding this past weekend. I had made this recipe for the first time years ago when I was pregnant with my oldest and we were in college in Iowa.
It is so simple and easy, the girls did most of the work and it travels really well. There will also not be any left when you are done!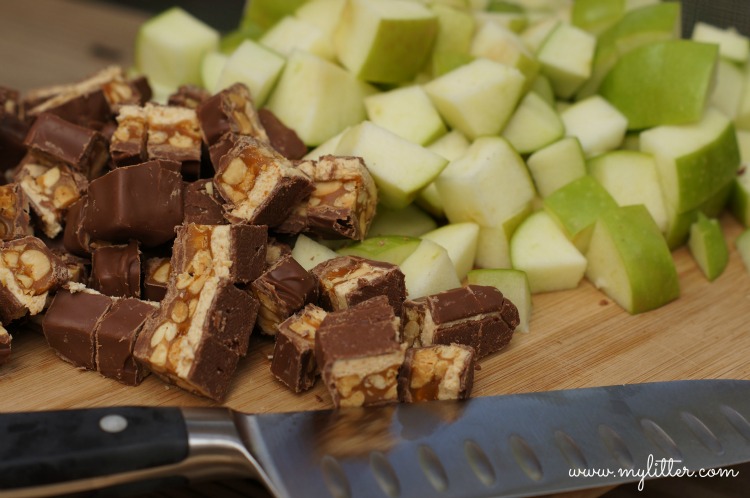 As always I grabbed a big kid and had them get going cutting up the snickers for me. I had my husband doing it first, but he ate an entire Snickers in the process so he was fired 🙂
Snickers Salad with Apples Recipe
1 3oz. Package Pudding ( I used vanilla, you can also use French Vanilla, or Cheesecake)
1 Cup Milk
1 8oz Carton Cool Whip
2 Large Granny Apples
2 Large Snickers Bars
Mix 1 cup milk with pudding until combined, fold in carton of cool whip. Chop apples and Snickers into bite size pieces and add to cool whip mixture and refrigerate. * Use more Snickers and apples with a larger carton of Cool Whip.
Make sure to serve in a pretty bowl, it just makes it that much more fun!
Check out the other no-bake desserts for the summer: