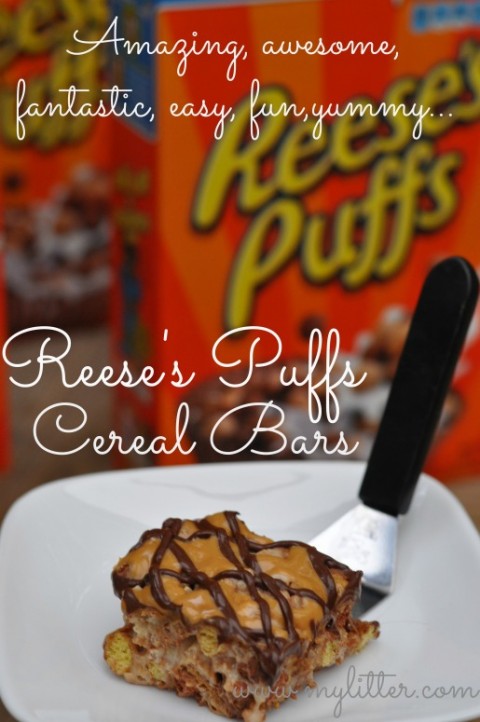 I have wanted to make these Reese's Puffs Cereal Bars for a long time but never had a reason.
Who else has a TON of boxes of Reese's Puff Cereal?? This girl does, that is who!! Thanks to the recent Kroger Mega Event, I have enough boxes to last through even my Reese's addiction!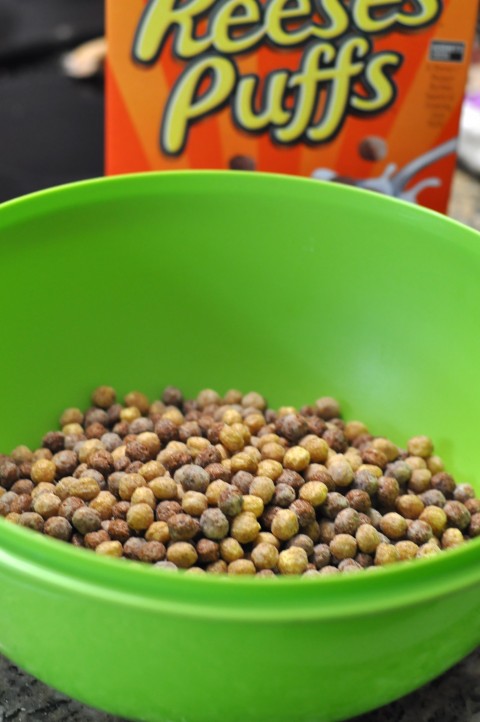 This is a super simple recipe that even the kids can make!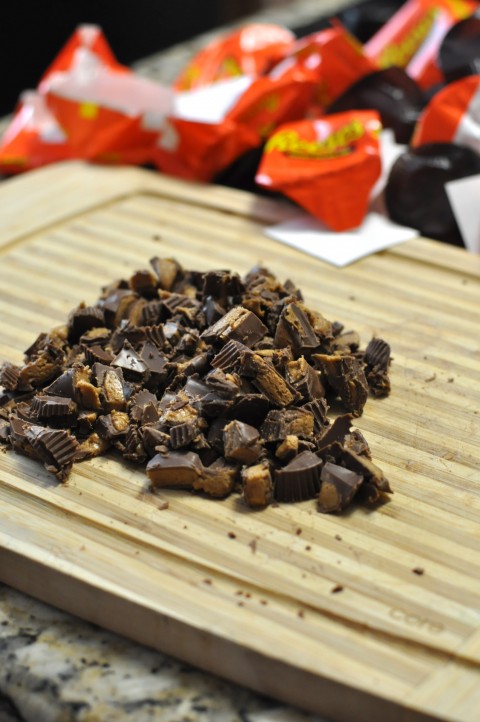 When chopping all the Reeses cups, try not to eat them all! 🙂
I added corn syrup to my marshmallows. This always makes it just a little bit better to stick together and have a better consistency.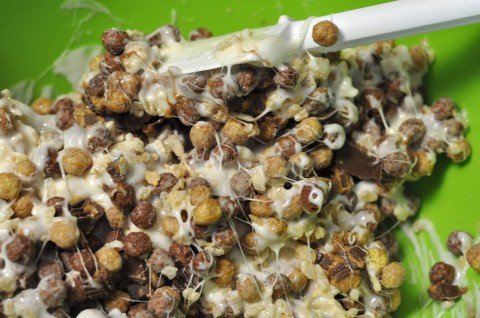 When you add the hot marshmallow to the Reeses they are obviously going to melt a little. So make sure that you quickly mix and fold the cereal, not over mixing and mashing all the Reeses. Does that make sense?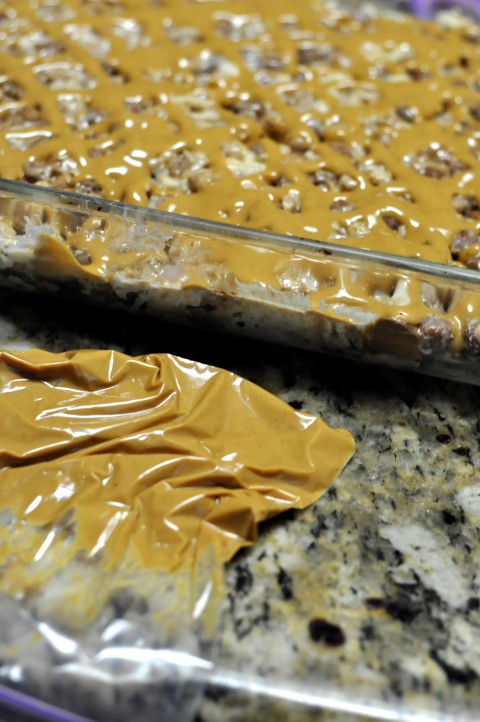 If you are good with a spoon, you can try and spoon lines of the melted peanut butter on. Wasn't working for me. My sister grabbed a bag and snipped off the corner and we zig zagged the peanut butter on that way and it worked really well!
Reese's Puffs Cereal Bars Recipe
4 cups Reese's Puffs Cereal
2 Cups Rice Krispies
16 Reeses Peanut Butter Cups chopped
5 Tbs butter
3 Tbs light karo syrup
2 (10 ounce) package  miniature marshmallows
Topping:
1/3 cup peanut butter
1/2 cup chocolate chips
Chop Reeses cups and add them to a bowl with the cereal. Get your pans ready and spray a 9 x 13 in. pan with cooking spray. Now you will basically be making Rice Krispie treats. Melt butter over low heat, adding karo syrup and marshmallows. Stir like crazy until it is all melted.
When melted, pour over your cereal and Reeses mix, and fold marshmallow in. Press mixture into your sprayed 9 x 13 pan. Add peanut butter to a small bowl and microwave for 30 seconds until it is soft. Let it cool a little and put it in a ziploc bag, clip the tip and make a zip zag pattern across the 9×13 pan. Do the same with the 1/3 cup chocolate chips. Melt and zig zag across the top. It just makes it look cool! You could totally omit this part….
I popped the pan in the fridge to help it set up quicker and we ate them 5 minutes later!