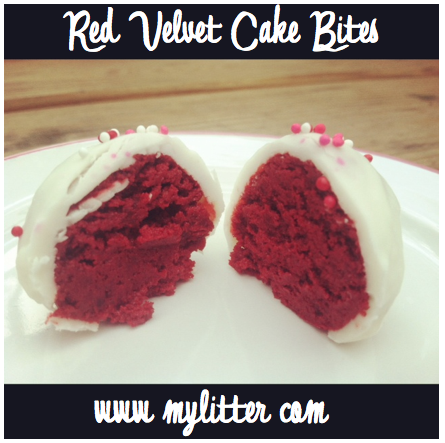 This week the kids and I have made about 7 batches of cake pops, or cake bites and Oreo truffles for their friends and teachers tomorrow. Do you know how many from all those that we made are actually left to give to the friends and teachers??? About 35. We have eaten over 200 in the past few days….
My girls have gotten so good they can make them on their own. Which is nice because when they get home from school today, I am putting them to work!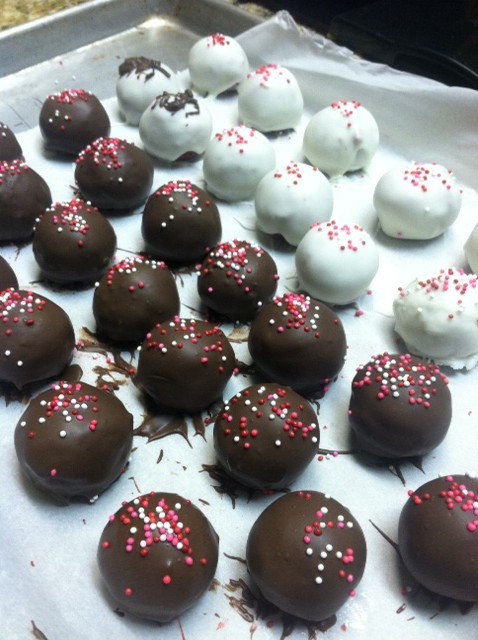 The first few times I have made these I gave up for a year, they were a mess. Dipping them was a disaster and they looked horrible ( they tasted good!) but I found that freezing the balls before dipping and using the almond bark made all the difference.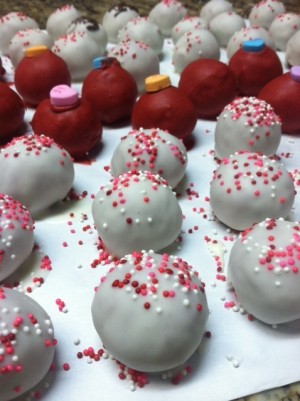 First, make a 9×13 cake from a mix. We used Red Velvet, you can get them for as low as $.33 a box at HEB this week. After you have baked the cake, take a fork and crumble it all up. Add a container of frosting, we used cream cheese, and mix it all together. Next, roll into balls. I use a stainless scoop so they are all the same size, and use wax paper to cover a cookie sheet and set them on. I put them in the freezer for about an hour.
From Walmart, I use the Plymouth Pantry Almond Bark in chocolate or vanilla for $2.38 and melt it in the microwave. Then I take a frozen cake ball and and place it on a fork, with a spatula I spoon almond bark over it and tap the fork to get off the extra. Then with a knife I slide the covered ball off the fork and onto more wax paper. The almond bark dries fast and we put them in little mini cupcake paper holders.
The total cost is ridiculously low, about $.10 cents a cake ball. The kids package them 2 to a bag and wrap them up!
Give it a try tonight!