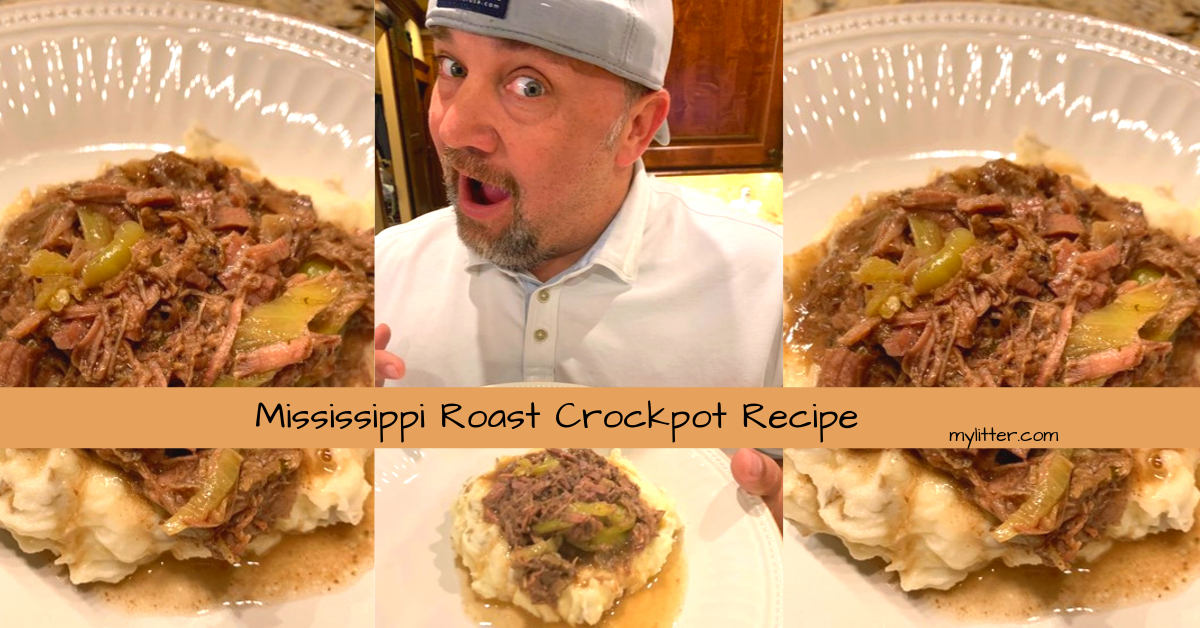 Hi Everyone! We are back in the kitchen with one of our family's most favorite crock-pot meals! We are cooking up an easy peasy dinner that you are just going to love!  Grab your crock-pot and a  few simple ingredients for a homemade meal that everyone will be begging for more.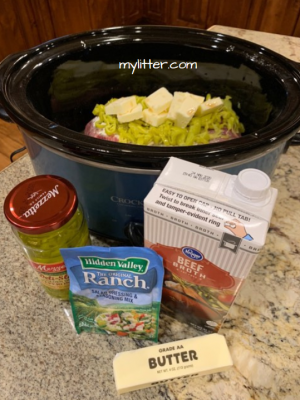 The great thing about this recipe is the simplicity. These ingredients are most likely already in your kitchen just waiting to be apart of your new favorite dinner recipe. Prep time only takes a few minutes and you are well on your way to a satisfying meal.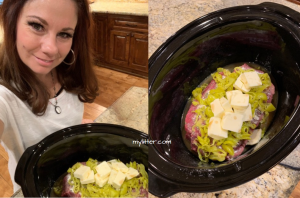 It really is that easy and so delicious. No fancy cooking skills needed. All you have to do is layer your ingredients in the crock-pot, cook on low all day while tending to your busy schedule. This is a great "set it and forget it" recipe. When you return to the kitchen, you will have an amazing meal to enjoy.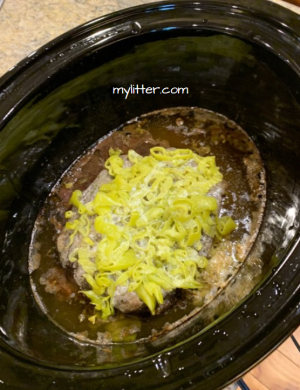 Your family will be asking, "Is It Done Yet?" all day in anticipation. I always catch Paul sneaking a taste throughout the day.
Once your Mississippi Roast is finished, you will be able to shred the roast with a fork. It is so tender and juicy that the roast will just fall apart.
Crock-pot season is here and this recipe will be a great start to cold weather comfort that tastes amazing. Pair with your favorite veggies to complete the meal or choose mashed potatoes, as we did. If you are looking for a low carb friendly approach, you may prefer cauliflower as another option. As we said, this recipe is so easy that you may want to make two batches if you have a large family as we do. This Mississippi Roast even tastes great the next day for a take-a-along lunch (if there is any left).
Mississippi Pot Roast 
Ingredients
1 (3-4 pounds) chuck roast
1 packet ranch dressing mix
1 packet au jus gravy mix or beef broth
1/2 cup butter
4-5 pepperoncini peppers sliced
Layer in a crock pot and cook low and slow! Serve with mashed potatoes or noodles
Lid quickly seals in place with clips for spill-resistant travel
Full-grip handles make carrying easier
High, low and warm heat settings
Fits a 2 lb roast or 4.5 lb chicken
Removable stoneware and glass lid go in the dishwasher for easy cleanup
Lid quickly seals in place with clips for spill-resistant travel
Full-grip handles make carrying easier
High, low and warm heat settings
Fits a 2 lb roast or 4.5 lb chicken
Removable stoneware and glass lid go in the dishwasher for easy cleanup
Making the most of your shopping this year? Don't forget to: 
Compare prices to Amazon (Amazon may have changed their price since we posted this!  They frequently change prices to match the major retailers)