Hi Everyone! We are back in the kitchen and today we are going to make one of our favorites Crock-pot BBQ Ribs! Grab your crock-pot and a few simple ingredients for everyone's favorite!
Prep time only takes a few minutes and you are well on your way to a satisfying meal. Pair these delicious BBQ Ribs with your favorite veggies or any side dish to complete the meal for you and your family.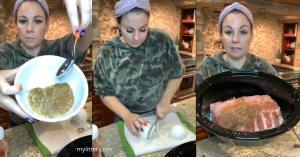 It really is that easy and so delicious. No fancy cooking skills needed. This is a great "set it and forget it" recipe for a busy family like ours. When you return to the kitchen, you will have an amazing meal to enjoy.
You will want to start with creating your dry rub (recipe below) The dry rub is a wonderful mix of paprika, brown sugar, garlic powder, onion powder, black pepper, lemon, and salt. Super Easy, Right? Mix those up in a bowl so your seasoning is even on the ribs when you place them in the crock-pot.
Place your chopped onions and garlic in the bottom of the crock-pot first. Pat down your ribs with the dry rub on both sides and place the ribs on top of your onion/garlic mixture. Cover and Cook! You will cook the ribs on high for 4 hours or low for 8 hours. (It all depends on how hungry you are or how busy your day is going) Next, you will coat the ribs with the ketchup, bbq sauce, and chili mixture and broil for 4 to 5 minutes to seal in that coating and you are ready to eat!
Your family will be asking, "Is It Done Yet?" all day in anticipation. I always catch Paul sneaking a peek before I can even get the lid on. (The dry rub smells soooo good, you'll love it)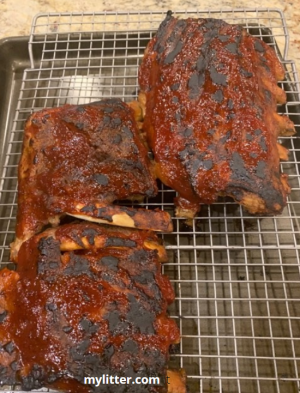 As you can see, that final broil touch gives them that special pit-master look and no one will know you let the crock-pot do the majority of the work for you. I am so happy that we own several crock-pots because with a family as big as ours one rack of ribs just won't cut it. There you have! Super Easy! Super Delicious Crock-pot BBQ Ribs! Enjoy!
Crockpot Baby Back Ribs!
Ingredients
2 racks baby back ribs about 3-4 lbs
1 onion
4 cloves garlic
1/2 cup water
BBQ Rib Sauce
1/4 cup ketchup
1/2 cup chili sauce
1/2 cup your favorite BBQ Sauce
Instructions
Combine all rub ingredients (below).
Remove the silver membrane from the back of the ribs. Rub front and back of the ribs with spice mixture
Place onion, sliced garlic, water and ribs in a slow cooker
Cook ribs on high 4 hours or low 8 hours or until fork-tender
Preheat broiler. Combine ketchup, chili sauce, and barbecue sauce
Brush ribs with sauce mixture and broil (or grill) 3-5 minutes or until charred
Recipe Notes
Rib Rub 1 tablespoon paprika 1 tablespoon brown sugar 3/4 teaspoon garlic powder 3/4 teaspoon onion powder 1/2 teaspoon black pepper 1/2 teaspoon lemon pepper 1/2 teaspoon salt or to taste
Thank you Spend With Pennies for sharing this wonderful recipe. We love it and so do the kids.
You may also enjoy:
Lid quickly seals in place with clips for spill-resistant travel
Full-grip handles make carrying easier
High, low and warm heat settings
Fits a 2 lb roast or 4.5 lb chicken
Removable stoneware and glass lid go in the dishwasher for easy cleanup
Lid quickly seals in place with clips for spill-resistant travel
Full-grip handles make carrying easier
High, low and warm heat settings
Fits a 2 lb roast or 4.5 lb chicken
Removable stoneware and glass lid go in the dishwasher for easy cleanup
Making the most of your shopping this year? Don't forget to: 
Compare prices to Amazon (Amazon may have changed their price since we posted this!  They frequently change prices to match the major retailers)