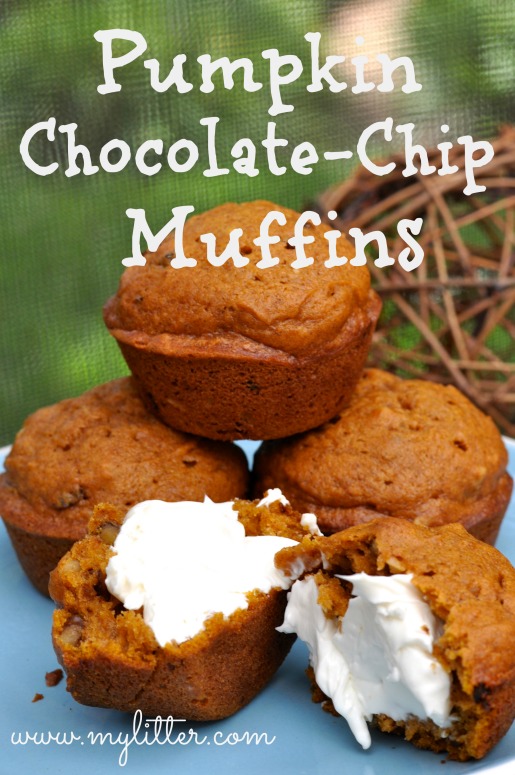 Every time my Mother in Law comes to visit, she makes Pumpkin Chocolate Chip Muffins. I prefer them with raisins but the kids usually freak out and ask why we wasted muffins by adding raisins!
The same goes with the nuts. Add 'em or not, you will still have some awesome muffins!
We always make a few different sizes. Regular muffins and always some mini muffins so you don't feel as bad eating 12 of them as compared to 6 of the bigger muffins 🙂
Now, you can ALWAYS frost with some cream cheese frosting, or even just drizzle some over the top. But what separates the professionals from the amateurs, is breaking a HOT muffin open and spreading some cream cheese on it and eating it right away!
I would know these things. I am a total muffin professional.
Tess' Pumpkin Bread – Pumpkin Chocolate Chip Muffins
Original recipe by Iona Watkins
Modified by Tess Roberts
Modified again by Cindy Nila
Preheat oven to 350
3 3/4 C Flour ( 1/2 Whole Wheat is good also) 2 tsp baking soda
1 1/2 tsp salt
3 tsp cinnamon
3 Cups sugar
1/4 tsp allspice
1/8+ tsp cloves
1/8+ tsp nutmeg
1/8+ tsp ginger
1/8+ tsp mace
1/2 Cups salad oil
1/2 Cups melted butter
5 eggs
3 Cups pumpkin (1 large can minus almost a 1?2 cup) 2/3 Cup water
2 Cups chopped walnuts
1 Cup Mini Chocolate Chips
1 Cup raisins finely chopped (These are NOT optional)
Sift dry ingredients together. Make a well add next 5 ingredients Beat until smooth. Add nuts and raisins. Mix. Oil and flour 3 loaf pans fill and bake for 1 hour. Or spray muffin pan with Pam, fill (2 cookie scoops) and bake for 25 minutes
Or spray mini muffins pan with Pam, fill (1 Cookie Scoop) and bake for 17 minutes