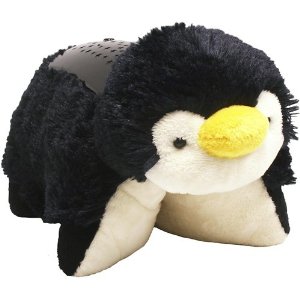 Do your kids have trouble sleeping? This is the new thing this year that has been recommended highly by some of my friends to help their kids get to sleep. They are from the makers of Pillow Pets and they are called Dream Lites. The Penguin is on sale today for $22 (normally $49.99) + $5.49 shipping.
They light up the ceiling with a "starry sky" and have an automatic shut off.
Pillow Pet Dream Lites are the amazing nightlight that turns your room into a starry sky instantly. Simply press the button it projects a starry sky on your ceiling and walls! Creates a magical and tranquil environment that helps kids ease into a restful sleep.
There is a Pink Butterfly Dream Lites for $32 that will ship for free.
There are also these Twilight Constellation Night Lights, which I think are a little cooler for a little less and free shipping. Thanks MissionToSave!
You can get the following: 
Turtle Night Light $23.49 (was $32)
Lady Bug Night Light $21.60 ( was $32)
Product Features:
Full night sky projection on ceiling and walls
Shell illuminates for a calming nightlight effect; Dimensions: 14″ long, 5.5″ tall
Auto shut-off 45 minute sleep timer; Three color options: Sapphire Blue, Emerald Green and Ruby Red
Includes Twilight Ladybug story and adoption certificate
Includes three AAA batteries; Ideal for ages 2 to adult