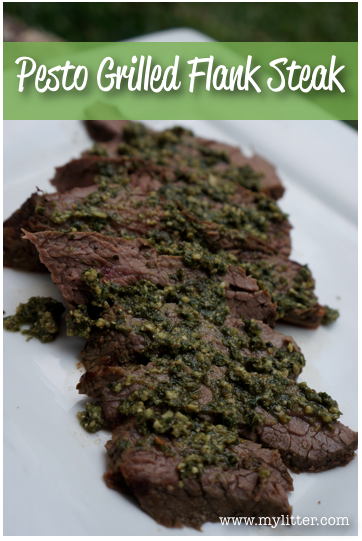 I just want to give you an idea for dinner this weekend…
One of the best traits my husband has is that he likes food. Well, and I like food. We were made for each other! 🙂
When we were first married Paul was ok on the grill. He tried, and it was edible, good even, but I had better. Then I had a few babies and we started watching the Food Network at all hours of the night with newborns. At some point Bobby Flay and Alton Brown became our best friends!
We started eating things like brie, mushrooms and pesto and liking it! Paul started getting all famous for his fancy grilled cheese and grilling skills.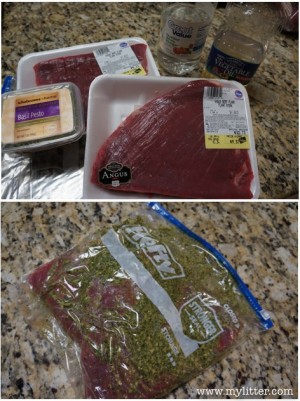 Thankfully, my kids love pesto, because Paul and I love it. As a kid I probably would not have liked it. This is what we are using for the flavor in this marinade and on the steak.
For the steak, I am using flank steak…
The flank steak is a beef steak cut from the abdominal muscles of the cow. A relatively long and flat cut, flank steak is used in a variety of dishes including London broil and as an alternative to the traditional skirt steak in fajitas. It can be grilled, pan-fried, broiled, or braised for increased tenderness. (Source)
In a ziploc I added some pesto (1/2 cup) , white vinegar (2 T ) and oil (1/2 cup). Toss in the steak and stick in the fridge for a few hours. I pull mine out about 30 minutes before grilling.
Cover with some seasoning salt like Lawry's and coat with more pesto.
Now, we would have normally grilled this, but 2 weeks ago my husband caught our grill on fire and it has not been the same since 🙁 So we opted to broil these bad boys.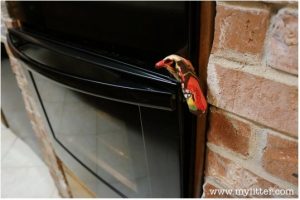 When you broil steaks, you will broil about 4-7 minutes on each side depending on the thickness. These were about 1/2 thick and so they cooked quickly.
Move the rack up pretty close to the broiler and prop the door open to the oven like Paul did with my oven mit. This will keep the broiler going since it will have a little draft and not cut off.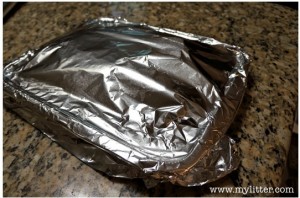 Then after you have flipped them and they are just about done, pull them out and quickly wrap them up in some foil. They will continue to cook and the meat will "rest."
* you MUST do this to have an AWESOME steak!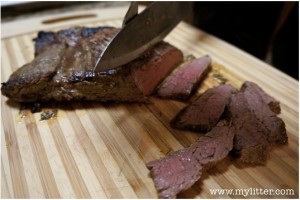 When you go to slice your steak, make sure that you are cutting it on an angle with a sharp knife against the grain. This will make your steak cuttable ( is that a word?) with a fork! It will MELT in your mouth!
Here let me give you another look….
We covered it in some more pesto, had some salad and some garlic knots. I made sure to smuggle some in the fridge to have cold on my salad for lunch!
Give this a try, you will not be sorry!
Tools I use: 
Awesome Chef Knife J.A.Forged 8-Inch $34.95 (was $59)
Core Bamboo Cutting boards 3-Piece set $13.96 (was $39)