If you like to eat cookie dough…. then this treat is JUST FOR YOU.  Peanut Butter Cookie Dough Bites are perfect for Valentines Day or really any occasion. It is not really cookie dough but it sure does taste like it (and no eggs, so it is safe to eat raw).
Plus as always, it is easy for the kids to do. These are my favorite kind of recipes!
Since they are almost like candy, I prefer to make them smaller and not as big as the size of a cookie. Just a suggestion.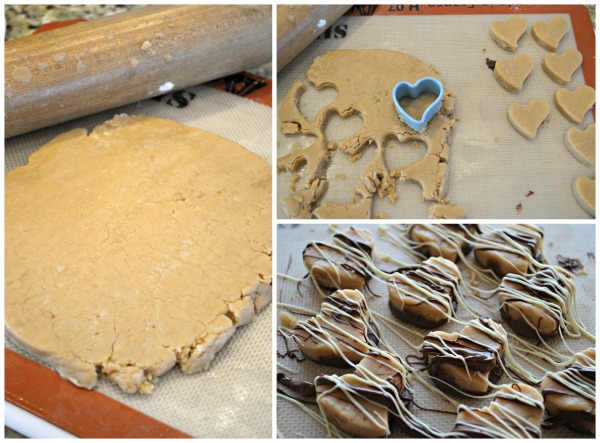 Peanut Butter Cookie Dough Bites
Recipe yields 40-50 cookies
You will need:
2 cup Peanut Butter
8 oz cream cheese softened
2 tablespoon butter (at room temperature)
4 cups powdered sugar
1-2 cup chocolate chips (melted for dipping)
1/2 cup white chocolate chips melted
To make dough , mix together peanut butter, cream cheese and butter.  Once well blended, stir in the powdered sugar one cup at a time. It should form a soft dough.  Wrap dough in plastic wrap and set in refrigerator to cool.  As it cools the dough will become more firm.
After dough has chilled for an hour, use a rolling pin to roll dough out 1/4 inch thick.  Use a cookie cutter to cut out shapes, dip the bottom of the shapes into melted chocolate and place on foil or nonstick mat to cool.  Take the rest of the chocolate and drizzle it on top of the bites, for a color contrast you can use white chocolate as well.   Allow to cool, peel off the foil and store in a covered container in the refrigerator.