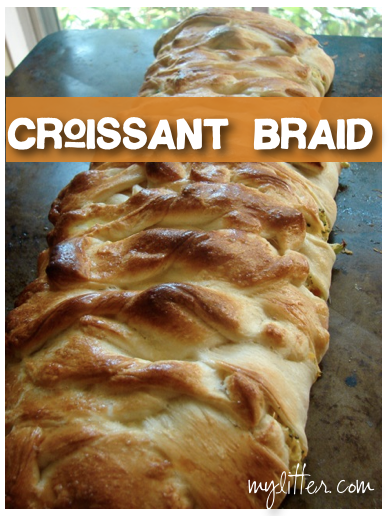 From Pampered Chef, the Croissant Broccoli Braid recipe has to be one of the most popular. I know that for a while I must have had this weekly as it is so good and easy to make, plus it looks wonderful when you serve it! If you don't like broccoli, don't worry you can make all kinds of different fillings and still braid it up to bake.
In my pantry, it is rare that I don't already have all the ingredients for this recipe. It is a GREAT dish to being to a brunch or party.
I also used canned chicken most of the time because I usually have coupons: $0.75 off 1 Tyson Grilled & Ready Canned Chicken.
After you chop all the ingredients and mix them together set that in the fridge. The colder the croissants, the better so leave those in the fridge until you need them.
Lay out the croissants into a large rectangle. Pinch all the seams together, or take a rolling pin and make it more 1 piece. Then with a pizza cutter, on the long sides about 1 inch apart cut into the middle of the rectangle. Stop about 2 inches from the middle.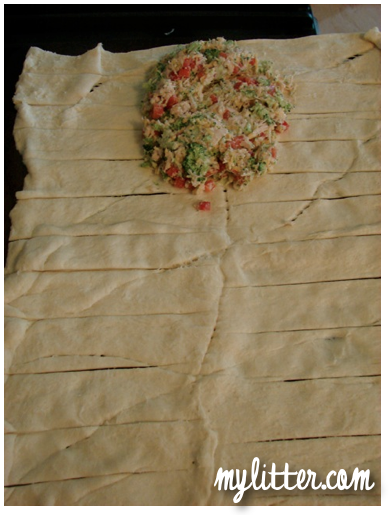 Now take the mix and scoop it into the middle of the braid all the way down the croissants.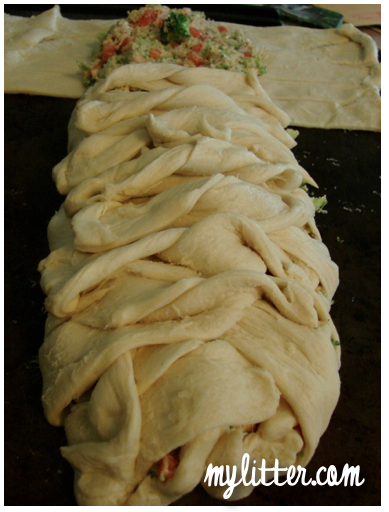 Starting from one end, take one 1″ strip and pull it towards the middle of the braid covering the mix. As I pull it into the middle I give it a twist to make the top a little prettier.
Alternate pulling in one strip from each side, in a braiding pattern. Pinch them together in the center to seal the top. It doesn't matter if it does not look perfect, when it bakes it will look really good!
Brush the top with the egg and sprinkle the almonds on. Bake until golden brown!
Pampered Chef Croissant Broccoli Braid
Ingredients:
1 cup (250 mL) chopped broccoli florets
2 cups (500 mL) chopped cooked chicken breasts (see Cook's Tip)
1/2 cup (125 mL) diced red bell pepper
1 cup (250 mL) shredded sharp cheddar cheese
1/2 cup (125 mL) mayonnaise
1 garlic clove, pressed
2 tsp (10 mL) Dill
1/4 tsp (1 mL) salt
2 pkg (8 oz or 235 g) refrigerated crescent dough
1 egg white, lightly beaten
2 tbsp (30 mL) slivered almonds
Directions:
Preheat oven to 375°F (190°C). Combine broccoli, chicken, bell pepper, cheese, mayonnaise, dill mix, pressed garlic and salt in Classic Batter Bowl; mix well.
Unroll one package of the crescent dough; do not separate. Arrange longest sides of dough across width of Rectangle Stone. Repeat with remaining package of dough. UsingBaker's Roller®, roll dough to seal perforations. On longest sides of baking stone, cut dough into strips 1 1/2 in. (4 cm) apart, 3 in. (7.5 cm) deep. (There will be 6 in./15 cm in the center for the filling.)
Spread filling evenly over center of dough. To braid, lift dough strips across filling to meet in center, twisting each strip one turn. Continue alternating strips to form a braid. Tuck ends up to seal at end of braid. Brush egg white over dough. Sprinkle with almonds. Bake 25-28 minutes or until deep golden brown