Nutter Butter Halloween ghosts are a long tradition in our home. I remember my Mom making these when I was a teenager.
They are really easy, inexpensive and the kids can help do everything!
You will need Nutter Butters ( $3.47) Almond Bark ($2.98) and either Mini Morsels ($2.28) for the eyes or Mini Reeses Pieces ($1.98).
Chop up the Almond bark and melt in a double boiler or in the microwave. I don't have a double boiler and so I do mine in a sauce pan.
You have to do this on the LOWEST heat possible and it will take a good 10 minutes to start melting good, but any higher heat and you will ruin the chocolate.
In the mean time, try and keep the kids out of the cookies!
Once the chocolate is smooth and all melted you are going to start dipping the cookies. I remove it from the heat because I let the kids do this. Every now and then you have to stick the pan back on to keep it melted.
Dip each cookie about 2/3 the way in. Shake them a little to get the excess off and sometimes I dip them a second time.
If you have any candy left…
This is where I grab kids and they can help either dip cookies or stick the eyes on.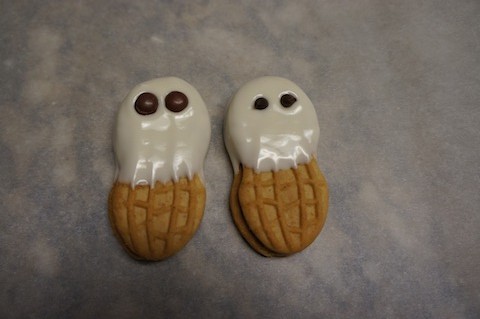 We did one ghost with mini chocolate chip cookies and one with mini Reeses Pieces. Then we voted. The mini Reese pieces won because they were a little bigger.
After dipping, place them on wax paper, parchment paper or a surface where they won't stick. You can make the chocolate harden faster by sticking them in the freezer or fridge, but I just let mine harden for about an hour on the counter.
Then you can place them in little gift baggies or boxes and give them away!
I used clear plastic gift bags ($1.99) from Walmart, ribbon from Dollar Tree ($1) and pumpkin and cat cut outs ($1.50 for 12)  from Targets Dollar Spot.
Total cost for 3 cookies in a bag with decoration: $1.15