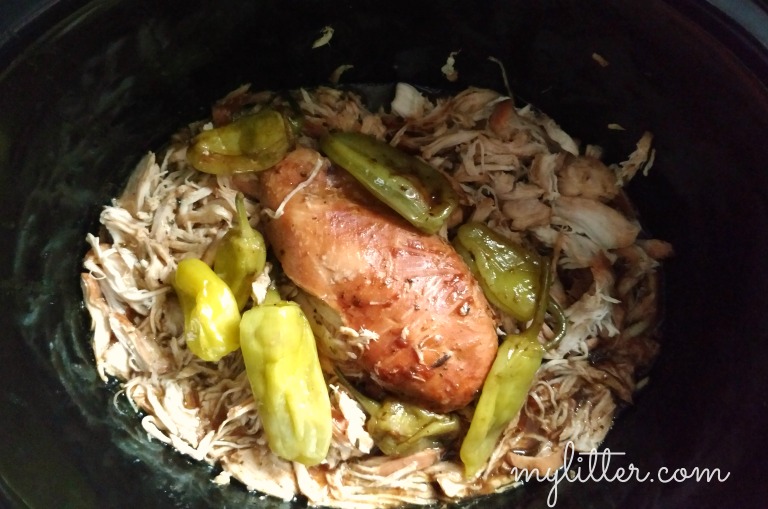 Mississippi Chicken Crockpot Recipe
There's been a LOT of buzz the last couple years about Mississippi pot roast – it's zesty, saucy, and tender as can be, but if you're not a big roast fan you might have passed on it.
Our family loves chicken so much that I thought I'd try out a Mississippi Chicken crockpot recipe and see if it turned out just as yummy…
Oh. My. Word.
The family loved this Mississippi Chicken so much that I'll be putting it in the weekly menu rotation!  Here's how to make this SUPER easy recipe….
Ingredients:
4 – 6 Bonelesss, Skinless Chicken Breasts (if you're using 4, just don't use the entire packets of seasoning or it will get too salty)
Packet of Ranch Dressing Mix
Packet of Au Jous Gravy Mix  (beef gravy will work in a pinch)
8 Peperoncini Peppers
1/2 Stick Unsalted Butter
You're going to be tempted to put in some water or liquid – but I *PROMISE* you don't need it!  The chicken makes juice and the peppers make a little juice and the butter does it's thing and it turns out just PERFECT.
Trust me on this one!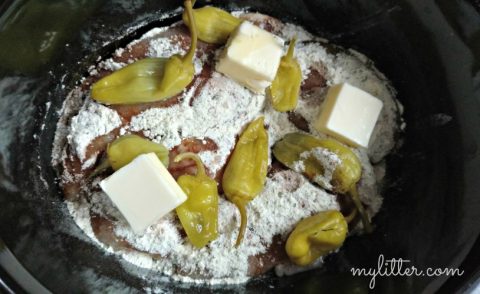 Directions:
Place the chicken breast in the bottom of your slow cooker.  (My favorite slow cooker is this Stay or Go by Hamilton Beach – it lets me bring this dish to pot lucks and parties without it spilling out in the trunk!)
Sprinkle seasoning packets to cover chicken.
Place 8 peperoncini peppers around the top.
Top with a half stick of unsalted butter, cut into pieces.
Cook on high for 4-5 hours, or low for 7-8.
Near the end of the cooking time, pull out the peppers and toss. (Unless you like to eat these!)  Shred the chicken right in the slow cooker with forks.
Serve over mashed potatoes, or rice – or (our favorite)  on hoagie buns.
I top ours with provolone cheese and put in the oven for 15 minutes to get them toasty and melty 🙂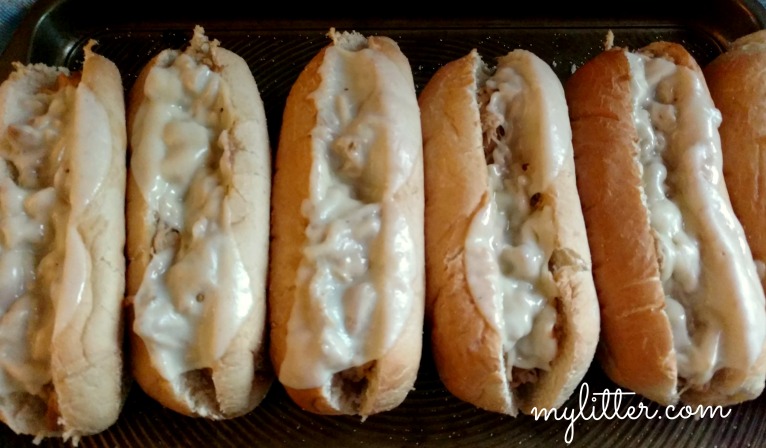 I can pretty much avoid cleanup by using slow cooker liners.  I'm telling you guys – if it means I don't have to haul my heavy crock into the sink and handwash it and scrape off baked-on sauces…. it is 100% worth the 60¢ apiece 😉
Let us know if you try it and whether your family enjoys this recipe – I'd love to hear if you made any tweaks or adjustments!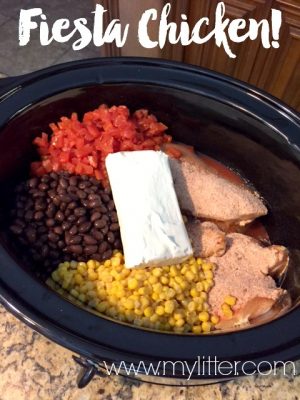 If you like this you might want to check out these easy chicken recipes!
Fiesta Chicken Crockpot Recipe
8 Can Chicken Tortilla Soup Recipe
Easy Chicken & Cheese Enchiladas