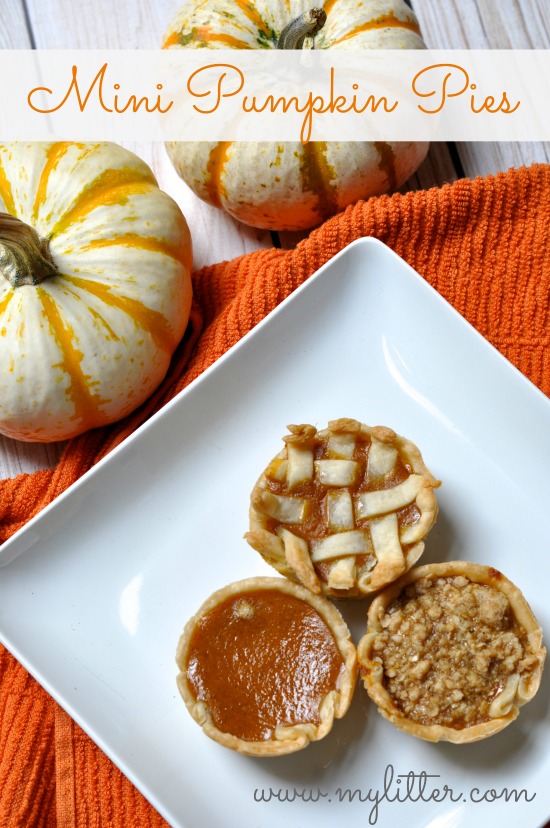 I am completely obsessed with Mini Pumpkin Pies. I think it is really just mini stuff in general, but the pumpkin pies are so darling this time of year I am in love!
You might remember this summer the Mini Cherry Pies and the Mini Quiche the girls and I made, well same idea, just different filling!

The Mini Cherry Pies post has a long tutorial on how to cut out the pie dough and bake them, I will spare you the details again. Just cut out the pre-made pie crust with a large cup and press them in a muffin tin.
Make your pumpkin pie filling following the recipe on the Libby's can. Fill each cup about 3/4 the way full.
I did 3 different kinds of toppings, well 2 at least and left one like a traditional pumpkin pie.
Topping#1 – Like the cherry pies I made a lattice out of dough. These take longer but I think they are the cutest!
Topping #2 – I added a streusel topping from soft butter, oatmeal, brown sugar and flour plus a little bit of cinnamon.
Topping #3 – 🙂 No topping just traditional pumpkin pie.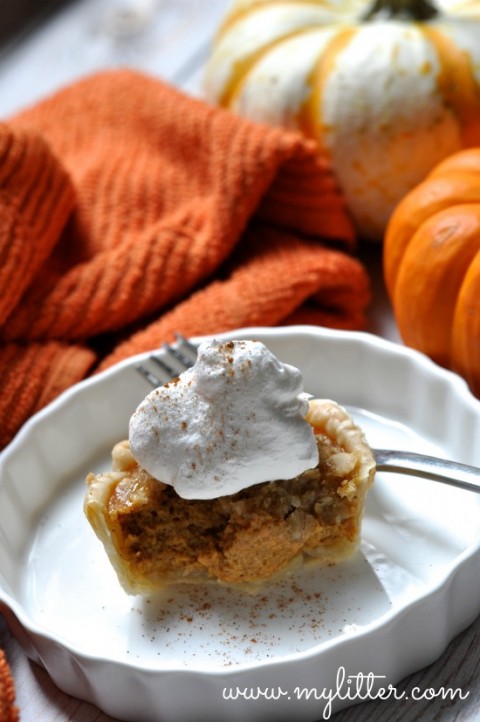 Bake them for about 20 minutes or until the center is firm and let cool. Remove from the muffin tins and serve. Obviously cool whip and ice cream go perfectly.
I think the thing about the mini versions is that you love that they seem personalized even if they really aren't. How many times have you wanted to eat an entire pie?? Well you can now!