There is the $1.00 off LLOYD'S Tubs or BBQ coupon that you can print. Use it on the lunch size $2.50 packs to get them for only $1.50 each! These are really great to take to work, or for a single serve! These are not at every Walmart I have been to but they are at many of them!
These were located in the refrigerated meat section.
::At Walmart::
Buy Lloyd's BBQ Tub $2.5o
Use  $1.00 off LLOYD'S Tubs or BBQ
Total: $1.50!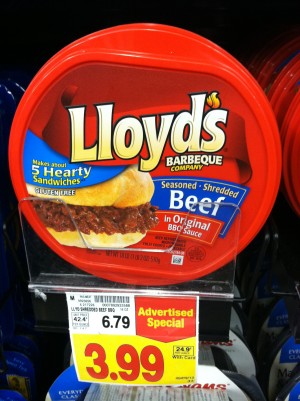 At Kroger, the larger ones are really priced AWESOME this week!
::At Kroger:: 
Buy Lloyd's BBQ Tub $3.99
Use  $1.00 off LLOYD'S Tubs or BBQ
Total: $2.99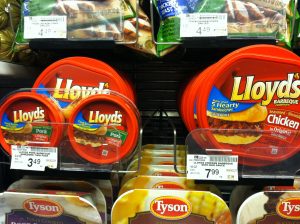 Then finally at Randalls, they are the most expensive here this week, but if you don't want to make a trip somewhere else you can pick yours up here.
::At Randalls::
Buy Lloyd's BBQ Tub $7.99
Use  $1.00 off LLOYD'S Tubs or BBQ
Total: $6.99
Buy Lloyd's BBQ Tub $3.49 (lunch size)
Use  $1.00 off LLOYD'S Tubs or BBQ
Total: $2.49
A baked potato bar is not a new idea and I am sure you have done it many times… but recently we "rediscovered" this dinner idea and it continues to be a huge hit around here!
I like potato bar's because they are easy and cheap. We usually can find many toppings in the fridge and I rarely have to pick anything up at the store for it, the only thing I have to do is get them in the oven in time 
I always butter and salt the potatoes with kosher salt and wrap them in foil, my husband tells me this is why he loves me! This is a good job for the kids. ** I think they turn out better when you don't wrap them in foil, but it makes a mess of my oven and smokes even with a pan underneath…
A month or so ago I got a great deal on this BBQ. I usually make my own but it was so cheap I thought I would try it. I bought a bunch and threw them in the freezer. When we have baked potatoes we use 2 for my family. I toss them in the microwave and we top the potatoes with it.
This is a picture of my daughters plate, I forgot to take one of mine and my husbands, we had ours TOPPED with everything! It was prettier that way! We usually have sour cream, cheese, butter, green onions, pulled pork, and salt and pepper.
Here are some ideas of what you can put in your bar:
Vegetables
mushrooms, sauteed
fresh or frozen peas
onions
celery
carrots
tomatoes
olives
avocado slices or chunks
broccoli
cauliflower florets
sweet bell pepper
jalapenos
Sauces and Dressings
flavored sour creams,
such as chipolte, truffle, cilantro
Ranch dressing
sour cream dips
seasoned butters
garlic butter
cheese sauces
Meat sauces such as stroganoff
Marinara sauce
Alfredo sauce
chili
nacho cheese or chili con queso
Meats
flaked tuna
smoked salmon
bacon bits
shredded ham
grilled or creamed chicken
shredded or crumbled ground beef
stroganoff or beef tips
chopped barbecue
blue cheese
shredded Parmesan cheese
tiny shrimps scampi
Exotic and Gourmet toppings
chopped fresh herbs
pesto
sauted spinach with garlic
stir fried baby vegetables
roasted red peppers
mixed grilled vegetables
caviar or fish roe
dipping oils
truffle oil
sliced toasted almonds
chopped water chestnuts
Baked Potato bars are really good to serve to big groups and company, Ellen's Kitchen has methods on how to transport and arrange Potato Bars for large crowds.
What are you having for dinner tonight?