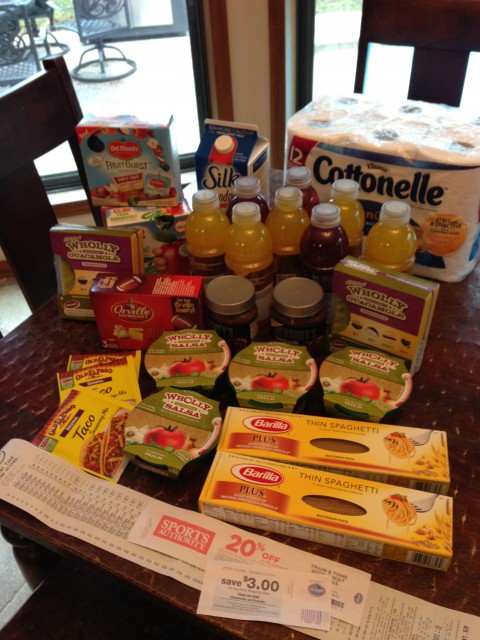 It's Monday and so a quick video to get you going this week. Catch my shopping trip to Kroger and make sure to get in there and grab your last minute deals.
Make sure to check out my video below as I explain what I bought and check out in the store. If you can't see the video you can go HERE to watch it.
I saved 47% and spent $47.18 This is what I bought:
Buy Hershey's Spreads $2.99
Use $1.00 off HERSHEY'S Spreads
Total: $1.99!
Buy 2 Wholy Guacamole $1.49
$1.00/1 Wholly Guacamole Product, Any – Facebook Coupon – Manufacturer– 
$1.00/1 Wholly Salsa Product – eatwholly.com – Manufacturer– 
$1.00/1 Wholly Salsa, Any – Facebook Coupon – Manufacturer
Final Price: $.49
Buy 4 Wholy Salsa $1.49 
$1.00/1 Wholly Guacamole Product
$1.00/1 Wholly Salsa Product
$1.00/1 Wholly Salsa
Final Price: $.49
Buy Silk Milk $1.99
Use 2 $1/1 Silk Milk Coupon HERE (I used zip code 77477)
Final Price: $.99
Buy 2 Barilla Pasta $1.69
$1.00/1 Barilla Pasta
Final Price: $1.19
3 Old Elpaso Taco Seasoning $.75
Use $0.60 off THREE Old El Paso products
Total: $.55 each
Del Monte Squishers $2.19
Use $1.00 off any 2 Del Monte Fruit Burst Squeezers
Total: $1.69
Dole Squishems $2
$1/1 Dole Squishems coupon
OR $1/1 Dole Fruit Squish'ems (Kroger Digital Coupon)
Total: $1
Cottonelle $4.99
Use $1.50/2 Peelie Coupon
Total: $4.24
Orville Popcorn $1.99
Use $1/1 Orville Redenbacher's Gourmet Popcorn, exp. 3/31/14 (Peelie)
Total: $.99
Vitamin Water $.79 
Get back: $3 Catalina