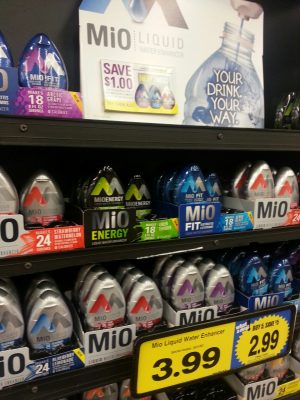 ::UPDATE:: 
There are no known coupons for the MIO out, BUT many of you have said your stores have the tear pads, and sure enough Samantha was able to find some in her store!
Buy Mio Flavor $2.99 
Use $1 tear pad coupon
Pay $1.99
Submit for $1 Ibotta deposit
Pay $.99!
Check out all the Kroger deals HERE
Sorry I was MIA for the last 2 hours… I laid down with the 2 year old because she wouldn't take a nap and she was REALLY grouchy. I thought if I put her in my bed (which is a special treat) she would go to sleep quicker. *I* JUST. WOKE. UP! I had no plans to take a nap, in fact I can't remember the last time I did! There was too much to do to take a nap! Serves me right for laying down with her! Ha! Have you ever done that? 
OK Kroger is getting better and better! Check out your Ibotta deals right now, they are starting to overlap with the Kroger Mega Event deals!
::DEAL IDEA:: 
Buy Mio Flavor $2.99 
I currently don't see any paper coupons out there
Pay $2.99
Submit for $1 Ibotta deposit
* My friend uses MIO in her Soda Machine! Great Idea!