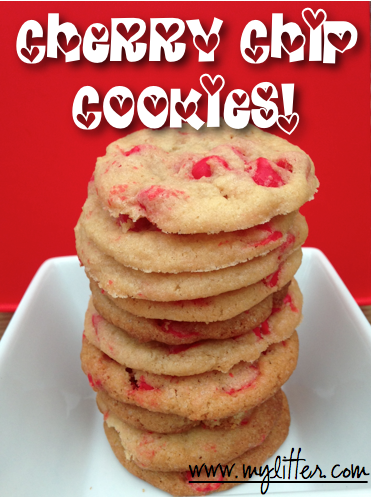 When I was a kid a grocery store called King Soopers in my area always gave kids free Cherry Chip cookies. They were just like chocolate  chip cookies but were make with Cherry flavored chips.
They also had lemon, but those were never very popular.
This was a highlight of our week, getting the free cookies. They also had $.10 hotdogs and so we often had dinner there while my Mom got groceries!
It is not easy to find the cherry chips. They are not just colored chips, they taste like cherry. I had to order mine from Amazon and they came in 2 days. They were less than $2 a bag and with Amazon Prime I got free shipping.
There is a really good recipe on the bag and I am making those tomorrow, it calls for mini marshmallows and evaporated milk. I will let you know how those turn out.
I made mine using the same recipe from the back of the Nestle Toll House bag but used almond extract instead of vanilla.
King Soopers Cherry Chip Cookie Recipe 
Ingredients
2 1/4 cups all-purpose flour
1 teaspoon baking soda
1 teaspoon salt
1 cup (2 sticks) butter, softened
3/4 cup granulated sugar
3/4 cup packed brown sugar
1 teaspoon almond extract
2 large eggs
2 cups (12-oz. pkg.) Cherry Chips
1 cup chopped nuts
Directions
PREHEAT oven to 375° F.
COMBINE flour, baking soda and salt in small bowl. Beat butter, granulated sugar, brown sugar and vanilla extract in large mixer bowl until creamy. Add eggs, one at a time, beating well after each addition. Gradually beat in flour mixture. Stir in morsels and nuts. Drop by rounded tablespoon onto ungreased baking sheets.