Want a St. Patrick's Day inspired side for your meals? This Irish Soda Bread should hit the spot! We have made this bread several times and it always turns out just fabulous! Not too dense, not too crumbly. If you have never made homemade bread from scratch before this is a perfect recipe to start with. It's really super easy and nearly fail proof! It also makes a great compliment to Guinness Beef Stew!
Irish Soda Bread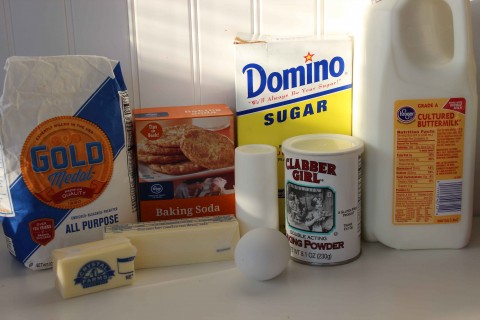 INGREDIENTS
4 cup Flour
4 tbsp Sugar
1 tsp Baking Soda
1 tbsp Baking Powder
1/2 tsp Salt
1/2 cup softened Butter
1/4 cup melted Butter
1 1/4 cup Buttermilk
1 Egg
DIRECTIONS
Before getting started you will need to preheat your oven to 375 degrees Fahrenheit. Next you will need a baking sheet (like this one HERE
). Lightly grease the baking sheet and set aside.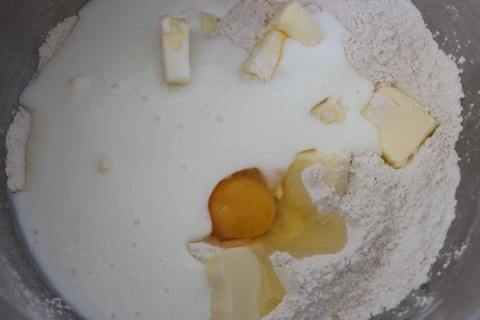 Now for the fun part – making the dough! Mix together flour, sugar, baking soda, baking powder and salt. Add 1/2 cup butter, 1 cup buttermilk and egg to dry ingredients and mix until combined.
Clean a large 12 x 12 sized section of your counter and light flour the surface.
Turn out dough and knead briefly. Do not over knead this will make it dense. Shape dough into a round shape and place on prepared sheet.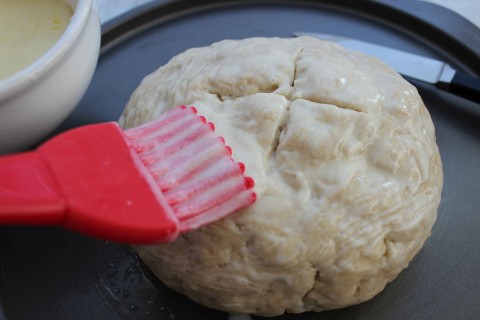 Whisk together 1/4 cup melted butter with 1/4 cup buttermilk. Brush loaf with buttermilk mixture. Cut an X in the top of the loaf. Back in the 19th Century they would say the cross shape would ward off the devil. However it's main and actual purpose is to allow air to get into the loaf and create a more even consistency, by allowing the bread to stretch and rise.
Bake for 45 minutes or until toothpick inserted into the middle comes out clean. Lastly, brush the loaf with the buttermilk mixture every 15 minutes while baking.
More St. Patricks Day Recipes