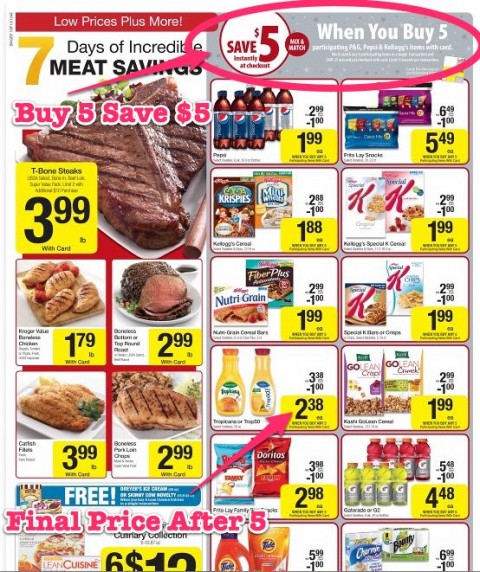 I posted this tutorial a few months ago for a different mega event, but it helps explain how to shop at one if you are not sure.
This current mega event Jan of 2013, is a Buy 5 Save $5.
This is the front page of the ad. It will explain what items are on sale ( although there are a TON more in the store unadvertised) and tell you what your final price will be AFTER the mega event $$ came off at the end.
When you are in the store, make sure to look for the gray and yellow tags and signs letting you know that this particular item is a mega event item. The first price is the price you will pay if you don't buy 5 mega event items. The lower price is the price you will pay (before coupons) IF you buy 5 mega event items.
I separate the items in my cart by non- mega event items and mega event items so that I can keep track of how many I have. This trip I had 30. I also double count them when I am checking out. The $5 for each 5 items you buy will automatically come off your total when you scan your Kroger card and check out at the register. You can also check your receipt and make sure that you get all the money off that you are supposed to by looking for a <* by each item.