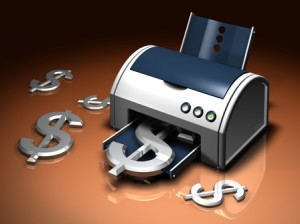 You have started clipping coupons and printing them, you are saving a TON of money, then you have to buy MORE ink! This can be frustrating, but in the long run you are still saving money using printable coupons. But there are a few things that you can do to save yourself some ink money.
Here are a few tips:
Print coupons in 3's. If you do this it takes up all the space on the paper and no ad print, which can take a bunch of ink.When you print one coupon at a time, often you'll get a big ad at the bottom of the page.
Each coupon can be printed twice.  After you print the coupon once, click your back button to print another coupon. If you can't get back to that page, go back to the original link and try again.
Do not print in Greyscale, it actually takes more ink. Set your printer to Black & White to save ink. I DO NOT print in black and white. I have found that many places will not take them unless they are in color.
If you decide to refill your cartridges, get the refill done ASAP. If you wait too long, the remaining ink dries out
Get a laser printer! You will use less ink! One trick that I learned about was that if you get the low-toner warning signal, at least with my printer, you can take a piece of tape and cover up the little window that the printer uses to determine if your toner is low. I figured if I did that I'd get a few more days out of the printer, but it's been like 2 months ( Thanks Katie!)
Although laser printers may cost more initially, they tend to be faster, use less ink, and are much cheaper on a month to month basis (i.e. cost of inkjet cartridges versus laser toner cartridges)
Use Garamond font in a small size…it takes less ink than other fonts.
What tips do you have?