Recently the girls and I experimented with making white chocolate popcorn. I am completely HOOKED!
I have always loved the salty and sweet, but hated the cost of buying it. We needed a treat for one of my kids teachers and this was PERFECT! It was soooo easy and amazing I can't believe we had not made it before!
First air pop some popcorn.  I have THIS ONE – but if the price has gone up, this air popper is on sale right now for a great price!
I had to make 3 batches everyone kept eating it. You could probably use plain microwave popcorn but I have not tried it that way.
Then get some almond bark ( Walmart $2.98) or Wilton Candy Melts or even white chocolate chips and melt them either in the microwave or in a double boiler. When it is all melted pour it over the popped corn and stir it up.
Next while the white chocolate is still a little "wet" toss in some toppings! I used chopped pecans and Reeses Pieces on this one. IT WAS AWESOME! You could use ANY finely chopped candy, cookie or nut. Try Oreos, Butterfinger, Heath, etc. You get the idea.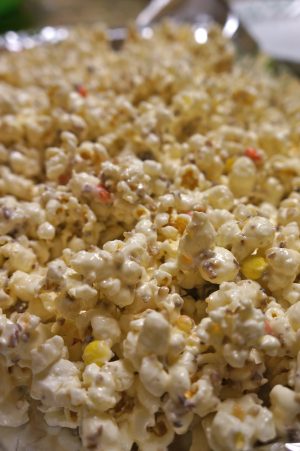 Then pour it out onto a cookie sheet to cool and harden. When it is set up break it apart and store in an air tight container.
I had some really cute boxes I put ours in to give away, I added some whole pecans to make it even prettier for our friends.
This is a SIMPLE and EASY and CHEAP gift to give someone. Give it a try this year!