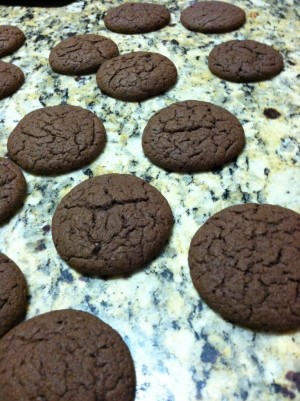 Last night I was really craving homemade Oreo cookies. It had been a little while since I had made them and the kids were looking for something to do with their cousins. My cookie craving seems to have something to do with THIS POST here.
We never made it farther then this (above). They came out of the oven, and the kids ate them. I never even got to put the frosting in the middle. I am still bummed, that is my favorite part. Plus, the real reason I wanted to make them was just so I had an excuse to eat the frosting. I can't justify making frosting then eating it with a spoon, but I can however, justify making frosting and eating it with a cookie!
This is what they are supposed to look like courtesy of Mommy's Kitchen.
This same recipe for the basic cookie part is so easy to make. I often make just the cookies and add a bag of chocolate chips to it. Plus, the cake mix is on sale this week at Randalls for $1 and there are $1/2 peelies on the box making them only $.50 a box! So I stocked up! Thanks for the tip Shasta!
You can make the cookies more from scratch and use coco powder, but I have never noticed a difference in taste between that way and using the cake mix. Plus, the cake mix is easier!
Homemade Oreo Cookies from Mommy's Kitchen
Cookie Recipe
1 package devil's food cake mix
2 eggs
1/2 – cup oil
(or butter flavored shortening)
Heat oven to 350 degrees. Add oil and eggs to cake mix and blend together. Roll dough into balls (a little larger than a quarter). Place on greased cookie sheet. Bake for 8 minutes. Remove from oven and let cool on sheet (until warm). Remove cookies from sheet and place on cooling rack.To assemble the cookies, in a pastry bag with a 1/2 inch, round tip (you can always use a zip lock bag with a round tip or just use a butter knife)add about a tablespoon of filling into the center of one cookie. Place another cookie similar in size on top of the filling. Lightly press, to work the filling evenly to the outsides of the cookie. Continue this process until all the cookies have been sandwiched with cream.

Vanilla Cream Filling Recipe:
1/4 cup (1/2 stick) room-temperature, unsalted butter
1/4 – cup vegetable shortening
2 – 3 – cups sifted confectioners' sugar
2 – teaspoons vanilla extractCream butter and shortening together. Add add vanilla extract and confectioner's sugar slowly until you reach your desired consistency.
** On Facebook, Lindsey suggested to try the Sopapilla Cheesecake from her site as well! She said it was awesome!