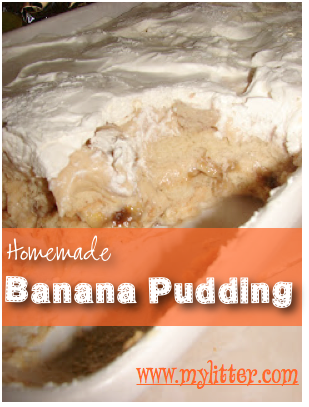 My husband and I love banana pudding. I usually make it the traditional way with instant vanilla pudding and vanilla wafers. One Thanksgiving when I was in college, ( no one tell my husband this story….) I went with a boyfriends family on vacation for the break. His Mother made the most amazing homemade banana pudding I have ever had, it was insanely good. I have tried to repeat it and have never been successful. She did not use instant pudding.
Fast forward to a few weeks ago when we went camping. We got rained out one night and went into town for dinner. The men got banana pudding for dessert for themselves in honor of my birthday 🙂 It was INCREDIBLY good! They used sugar cookies instead of vanilla wafers and it was the perfect ratio of cookies, pudding and banana's. Since them my husband has been begging me to make it. So I looked at tons of recipes on the web and ended up making it this way. First I made huge soft sugar cookies, just cutting them out in random circles. It didn't matter if they were pretty. I made up my own recipe:
DIRECTIONS
In a mixing bowl, cream butter and sugars. Beat in egg, vanilla and almond extract. Combine the flour, baking soda, cream of tartar and salt; gradually add to the creamed mixture and alternate with heavy cream. Shape into two 5-in. rolls; wrap in plastic wrap. Refrigerate for 1 hour or until firm. Unwrap; cut into 1/4-in. slices. Place 2 in. apart on ungreased baking sheets. Bake at 350 degrees F for 8-10 minutes. Remove to wire racks to cool.
Next I made the banana pudding recipe…
Banana Pudding
10 servings
Hands on: 25 minutes
Total time: 1 hour, 25 minutes or more for cooling
Feel free to use the full-fat versions of the sweetened condensed milk, if you prefer. The pudding can also be served in individual 1-cup ramekins.
1/3 cup all-purpose flour
Dash of salt
2 1/2 cups 1 percent low-fat milk
1 (14-ounce) can fat-free sweetened condensed milk
2 egg yolks, lightly beaten
2 teaspoons vanilla extract
3 cups sliced ripe bananas (about 5 to 6)
45 reduced-fat vanilla wafers
4 egg whites
1/4 cup granulated sugar
Preheat oven to 325 degrees.
Combine flour and salt in medium saucepan. Gradually stir in low-fat and condensed milks and yolks, and cook over medium heat, stirring constantly, for 8 minutes or until thickened. Remove from heat; stir in vanilla. Arrange 1 cup banana slices in a 2-quart baking dish. Spoon 1/3 pudding mixture over bananas; top with 15 vanilla wafers. Repeat layers once; top with remaining bananas and pudding. Arrange remaining 15 wafers around inside edge of dish. Gently push wafers into pudding. Beat egg whites at high speed with an electric mixer until foamy. Add sugar, 1 tablespoon at a time, beating until stiff peaks form and sugar is dissolved (2 to 4 minutes) Spread meringue over pudding, sealing to edge of dish. Bake for 25 minutes or until golden. Let cool at least 30 minutes.
Emma helping with the cooking part.

Layering the sugar cookies. I broke them up to fill in the spaces.

Instead of the meringue on the top I used whipped cream.

I have to say I was disappointed. It was a bit time consuming as any good dessert can be, but I still like the instant pudding and vanilla wafer recipe better!  Paul liked it a lot, not as much as the restaurant birthday dessert dish, but still thought it was good. The pudding part to me really lacked something…
Any ideas? I am willing to put in the time and effort if I can make it right! Maybe I haven't found the right recipe. Maybe homemade form scratch isn't better? I could be making it too hard and should just stick with Jello instant pudding and boxed cookies! Or maybe I should just call the ex-boyfriend's Mother and ask for her recipe….