Holiday Treats! How To Make The Grinch Crinkle Cookies
This fun and easy Grinch Crinkle Cookie recipe is such a crowd pleaser! I am sure you have had the traditional chocolate ones and know how easy they are to make. These are just as simple and even easier using a cake mix. If this is the first year your kids are watching The Grinch you can make these before watching the movie and enjoy them as a snack during it!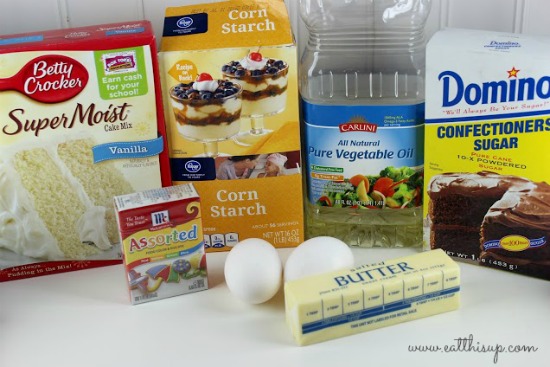 The cake mix batter will be very thick, this is a good thing as you do NOT want to touch it with your hands when I have that much food coloring in it!
If you have a cookie scoop, I used my .5 T scoop, you can use that to keep it off your hands. Or use 2 tablespoons to roll them into balls. This is the hardest part of the entire process and it isn't really hard at all!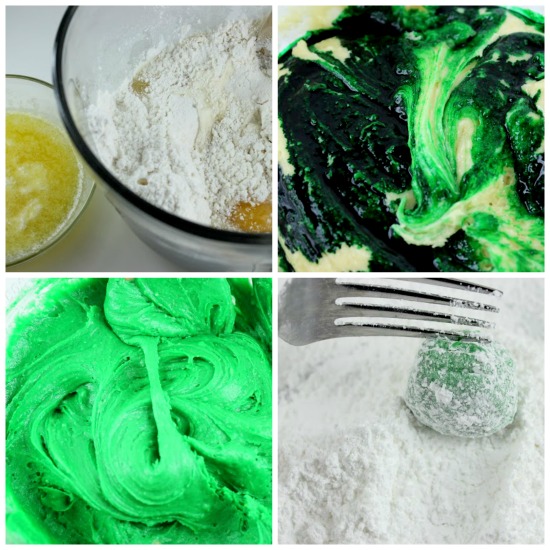 Grinch Crinkle Cookies
Author:
Tiffany Ivanovsky
Ingredients
18.25 oz Box Vanilla Cake Mix
1 stick Butter melted
2 Eggs
Green Food Coloring
1 cup Powdered Sugar
1 tbsp Corn Starch
1 tbsp Vegetable Oil
Instructions
Preheat oven to 375.
Cover cookie sheet with parchment paper.
Mix together corn starch and powdered sugar in a shallow dish.
In a large bowl, mix together butter cake mix and eggs (this will be thick).
Add enough green food coloring to get bright green (a lot).
In order to keep from getting your hands all green, use 2 spoons to gather up a chunk of dough and drop into the sugar starch mixture.
Roll around with the spoons to cover well. Then pick up and roll into a ball and place on cookie sheet.
Make sure you don't place too close as they will spread out some.
Bake for about 8-10 minutes untile they puff up.
Allow to cool on cookie sheet for several minutes before transfering to cooling rack.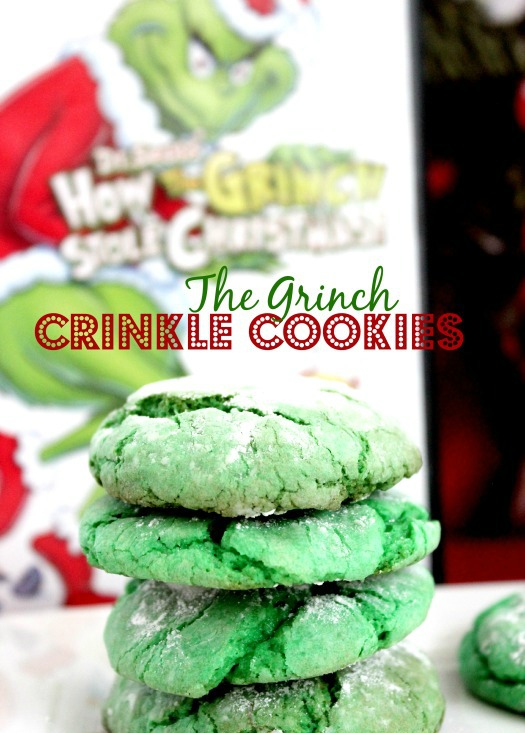 You may also enjoy:

Amazon Video ~ Stream the Holiday Classic Dr. Seuss How The Grinch Stole Christmas (The Ultimate Edition)
Dr. Seuss' timeless classic comes to life in an all-new Ultimate Edition, now with 2 newly remastered specials: The Grinch Grinches the Cat in the Hat and Halloween is Grinch Night!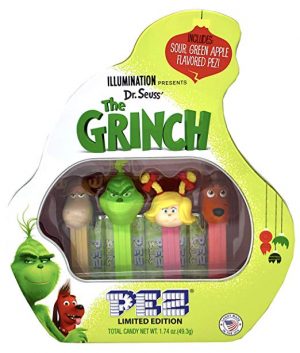 Pez Candy Limited Edition Grinch Gift Tin with Sour Green Apple Pez and Tru Inertia Kazoo
Includes Grinch themed tin with four dispensers from the Grinch – The Grinch, Cindy Lou, Fred and Max

Each Gift Tin includes a six-pack of Sour Green Apple PEZ Candy.

Peanut, Tree Nut & Gluten-Free – Candy Made in the USA

Includes Tru Inertia Kazoo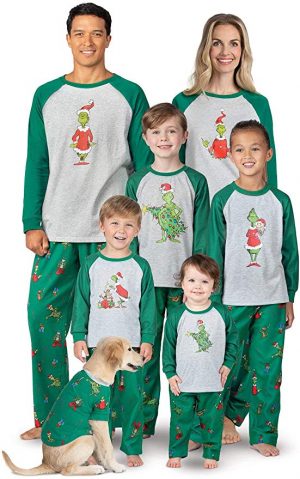 PajamaGram Holiday Grinch Pajamas Soft – Family Christmas Pajamas Set
PJs come in sizes for the whole family including your pet


 Full-length  pants and matching long-sleeve top capture the classic

Super-soft and machine washable
Assorted Holiday Ornaments Featuring The Grinch
Decorate the tree
Use as gift wrapping accent
Quick and easy gifts
Several options available
Limited Time Offer!
Coupons.com: Free Printable Coupons: Updated Daily

Walmart Savings Center: Rollback And Clearance Deals
Making the most of your shopping this year? Don't forget to: 
Compare prices to Amazon (Amazon may have changed their price since we posted this!  They frequently change prices to match the major retailers)