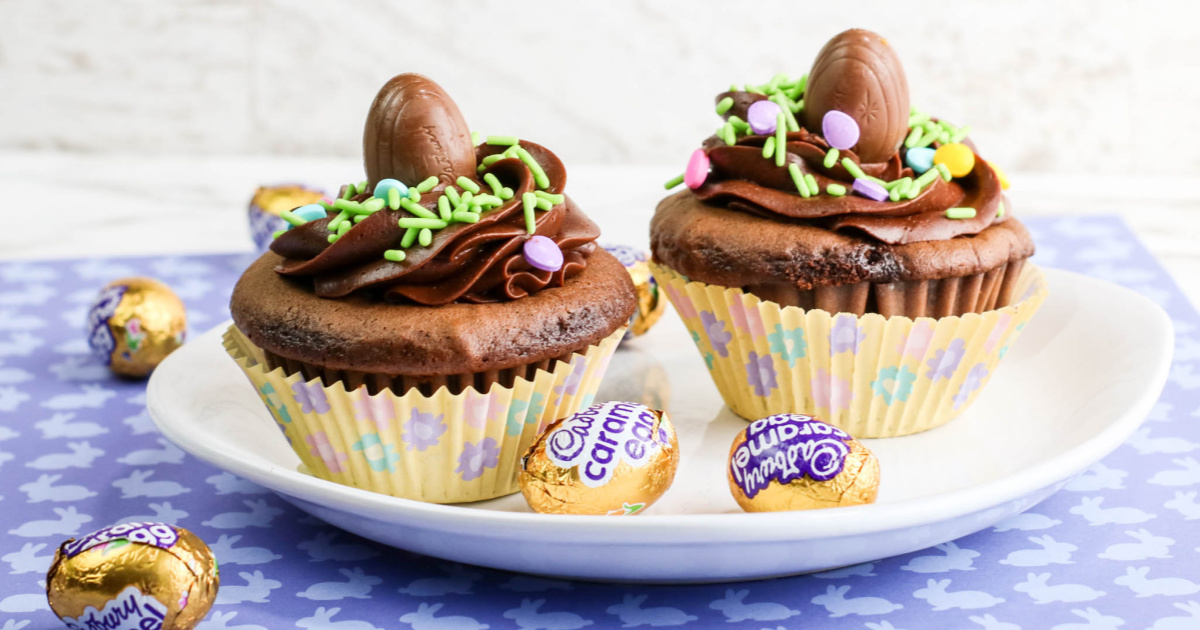 Did you all know that Easter is NEXT WEEK?! It has kind of snuck up on us over here, but I am trying to get everything together to make it a memorable one for the kids.  I just know that these yummy surprise cupcakes will help with that.  Who would not want to taste the yummy caramel goodness of a Cadbury Caramel Egg after biting into a chocolate cupcake? This recipe is one of those that looks complicated, but is just so easy to do!  You will need to find some Cadbury Caramel Eggs to make this happen, but hopefully they are still around in stores right now.  If not you can always substitute for another brand.  Find out how to make this deliciousness happen in the recipe below.
Hidden Cadbury Caramel Egg Cupcakes for Easter
---
Makes 10 hidden egg cupcakes with batter leftover for additional cupcakes (You could make 15 to 20 hidden egg cupcakes total with one cake mix.)
INGREDIENTS
1 box Devil's Food cake mix with ingredients for making the cake (or your favorite chocolate cake recipe)

About 4 cups frosting in three colors (Used Pillsbury Funfetti frosting in pink, purple, and yellow)

10 Cadbury Caramel Eggs, frozen

10 mini Cadbury Caramel Eggs

Sprinkles, if desired
DIRECTIONS
Preheat oven to 350 degrees. Prepare a cupcake pan with liners. Spritz with nonstick cooking spray.

In a mixing bowl, beat together the cake mix and ingredients for making cake.

Using a large scoop, divide the batter between the cupcake liners.

Place one, unwrapped, frozen Cadbury Egg in the middle of each cupcake liner.


Bake cupcakes for 15 to 18 minutes or until a toothpick inserted to the sides of the egg comes out clean. (Do not pierce through the center where the egg is.)

Allow cupcakes to cool for 5 minutes in the pan before transferring to a wire rack to cool completely.

Place the frosting in three different piping bags. Snip the tip from the piping bags and place all three piping bags in a larger piping bag fitted with an open star piping tip.

Pipe frosting from the middle of each cupcake to the outer edge and back to the middle to create a peak.

Press one mini Cadbury Caramel Egg into the peak of each cupcake. Decorate with sprinkles if desired.