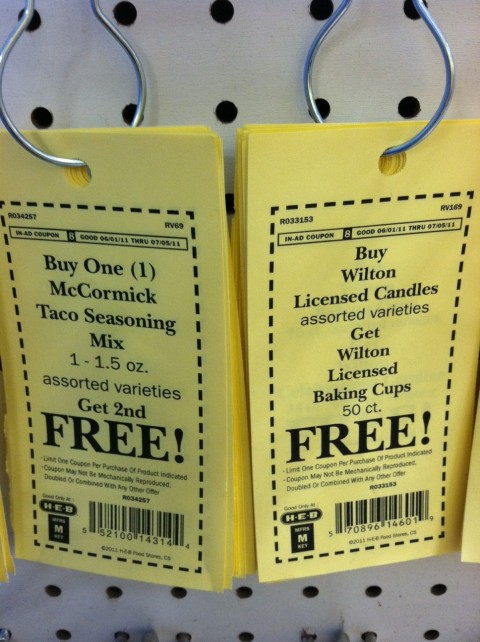 If you shop at HEB, I am sure that you have noticed that the store if full of those yellow hanging coupons. They look like they should be store coupons right? A few are but the majority are manufacturer coupons. You will know that it is a manufacturer coupon because it has the "M" in the lower left corner.
Every now and then, but so often are the same yellow coupons, but these have a "B" in the lower left corner, like the ones above. Go paperless with the latest Walgreens Ad and save better. These are HEB store coupons and CAN be combined with manufacturer coupons!
:: NEW POLICY, they can NOT be combined ::
You can see a copy of the HEB coupon policy HERE.
H-E-B accepts the following types of coupons:
Manufacturer issued coupons obtained from printed publications (newspaper, FSI, magazines, etc)
H-E-B Issued coupons

Manufacturer-sponsored coupons (Type M coupon; has an 'M' in bottom left corner)
Store-sponsored coupons (Type S Coupon; has an 'S' in the bottom left corner)
Big Savings coupons (Type B coupons; has a 'B' in the bottom left corner)
The above mentioned H-E-B issued coupons are typically

Available at store level and typically yellow in color
Combining a manufacturer issued coupon with an H-E-B issued manufacturer coupon (Type M) on the same item is not permitted

H-E-B will combine store sponsored yellow coupons with manufacturer coupons for the same product

One (1) manufacturer issued coupon and one (1) H-E-B issued Store-sponsored (Type S)
One (1) manufacturer issued coupon and one (1) H-E-B issued Big Savings coupon (Type B)
Clear as mud right!?
Shopping at HEB is easy. If you do not have any coupons it is the place to go, they have so many in the store you can always save about 25% without trying!