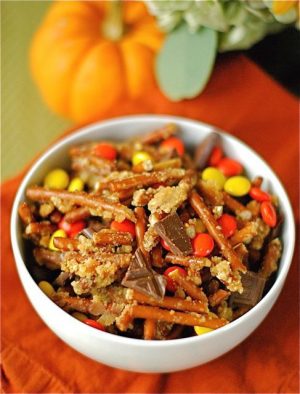 Photo & Recipe Credit Babble Blog
I have been a little obsessed lately with finding the perfect Halloween snack mix. The reason why is that as much as I love Halloween candy, I don't want to EAT all the Halloween candy. I find that if I have some other options that I wont eat as much junk. NOW, sometimes the snack mixes have just as much fat or more, but for me personally if it is sweet and has the salty I never eat as much.
Last night my daughter Emma and I made the mix above. Here is the recipe:
Halloween Candy Snack Mix
2 cups coarsely broken pretzels
1/4 cup light brown sugar
2 tablespoons granulated sugar
1/3 cup dry milk powder
6 tablespoons unsalted butter
1 regular bag Reese's Pieces
1 Hershey bar broken up into small pieces
1. Preheat oven to 275F. Line a small baking sheet and set aside.
2. Melt the butter and pour it into a large bowl. Stir in the sugars and milk powder until fully combined. Stir in the pretzels and spread them on a lined baking sheet. Bake for about 20 minutes until light brown and fragrant.
3. Allow the pretzels to cool completely before breaking them apart and adding them to a small bowl and tossing them with the Reese's Pieces and Hershey Bar pieces. Serve.
Photo & Recipe Credit Munchkin Munchies!
If you want an option to not have to back anything, we have made this one above as well.
Get out your BIGGEST bowl and start dumping in….
cheese crackers,
salted peanuts,
and pretzel squares.
Then the sweet stuff was added:
Reese's candy bits,
caramel corn,
honey nut cheerios,
cocoa puffs,
candy corn,
and mellowcreme pumpkins.
That's it!
The sky's the limit!
You do want to try and do a little sweet and salty balancing!
Emma and I made the first recipe last night like I said, the only tip I have is that I would make sure that you layer the mix VERY thin on a cookie sheet. I made the recipe X4, so I had 2 cookie sheets, one was a thin layer and one was thick, the thin layer turned out better.
This mix is soooooo good, it reminds me of something from when I was a kid that I can't place? I spent all night trying to remember. When it cooled, Emma packaged it in these cute boxes we found at Hobby Lobby (40% off) and the girls are giving them to their teachers today!
You can go HERE and see my post on what to do with the Halloween Ghost Peeps!