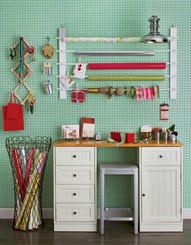 I love to get presents that are wrapped, so many come in bags now that the wrapping seems so special. For Christmas I always wrap all our presents, usually on December 24th for HOURS! Last year, I did a few every day and happily in bed on the 24th at about 1am and not 3am!
I would love to have a "wrapping station" but alas, I don't have an extra spot in my house. If you are wrapping presents this year, here is a little help….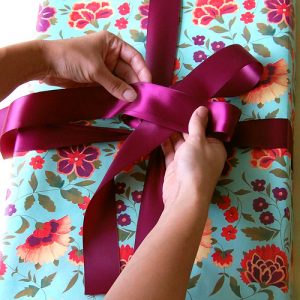 How about a present wrapping tutorial? Check out the blog, Hideous, Dreadful and Stinky ( I immediately liked her!) and check out her present wrapping tutorials.
Part 1. Preparing your gift. 
Part 2. Wrapping Your Gift
Part 3. The Finishing Touches
What about thinking outside the box for wrapping paper??
I don't know about you, but I have a TON of newspapers that I can use 🙂 Wrapped in newspaper with a bow is such a gift itself! They look so nice! Go HERE, HERE and HERE to see how they did their wrapping!
This might be my very favorite, I saw this idea a few years ago and went to the Goodwill store to look for shirts.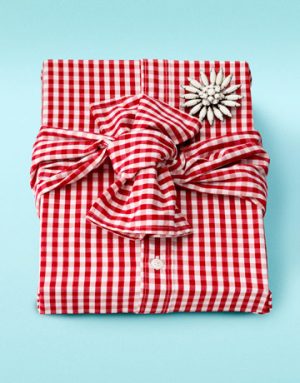 I bought the very cheapest and thinest material ones that they had. I paid no more than $.50 for each one. I used Children's, Men's and Women's and they were so darling and fun!
If you want to give it a try, you can go HERE and see some good instructions.
I think just adding little touches makes the gift so much prettier looking. You don't have to pay for anything either. I know you have been told to just walk outside and grab some berries or a few leaves from the ground, but when you actually do and add it to a gift it really looks nice.
I also buy much of my wrapping paper after Christmas and hold it for next year. I do this with expensive bows and tags at 90% off. That way I can afford to wrap a present like I spent a bunch of money on all  the frilly stuff when in fact I paid almost nothing for it!