This year, you can stretch your budget with these great Frugal Christmas Tree Decor Ideas!  Not everyone can afford new or fancy ornaments every year, but this year you can still decorate your tree with some amazing ideas that cost little to nothing out of your budget.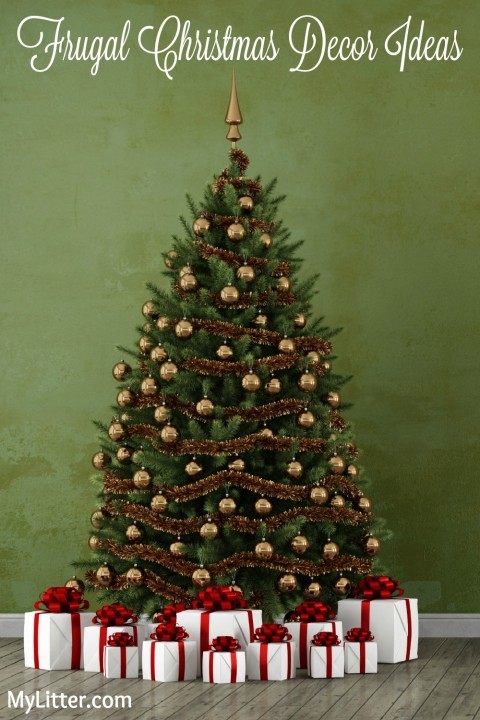 Frugal Christmas Tree Decor Ideas
When it comes time to decorate for the holidays, new ornaments may be a tough thing to afford. You can always grab clearance items after the holidays for next year but in the meantime these frugal Christmas tree decor ideas are going to help you and your family to enjoy adding fun touches to your tree and home without spending tons of money.
Make classic homemade decor.  Homemade decorations are always a great choice for the holidays.  There are tons of Christmas tree decor ideas that come from years past before you could buy everything in a store.  Some of the most beautiful decorations are handmade, and you can add that personal touch to your tree this year with some of the ideas listed below.
Simple red or gold bows
Paper chains using colorful construction paper
Applesauce & Cinnamon ornaments
Clay ornaments
Clothespin reindeer ornaments
Strings of popcorn or cranberries
Shop the local dollar stores.
 You can find tons of great items for $1-$3 at your local dollar stores, and many run holiday sales with 10%-25% off those items regularly between Thanksgiving and Christmas.  Bows, beads, garland, simple solid color ball ornaments and various ribbons and embellishments can be purchased for under $10 to add to your existing ornaments in an inexpensive but new way.
Use coupons and sales for special deals. Most craft stores like Michael's or Hobby Lobby have great sales throughout the fall and holiday season.  They offer coupons off single items, entire purchases or specific areas of the store on a weekly basis.  They also often allow you to combine that coupon with in-store sales happening on everything from ornaments to a new Christmas tree. Sign up online for the various local store email programs to get alerts on sales and new store coupons.
Shop local classifieds and swap shops.  People often want to get rid of their old Christmas tree decor to pay for new items.  Check out sites like Craigslist, your local classified ads site and even Facebook swap shops for your community to find great gently used items.  Sometimes you can even snag an entire fake Christmas tree itself for under $15 on these sites.  Make sure to meet people in public places when dropping off or picking up your purchases for safety.
These tips for frugal Christmas tree decor ideas are going to make your holidays even more beautiful well within your budget. Watch our regular deal postings for great in-store and online deals that will also make your holiday decoration budget stretch much farther this year.