Last night I posted on Instagram a picture of the easy Fried Rice I made for dinner. Everyone was asking for the recipe and I said  I would post it today, but I am almost embarrassed it was so easy.
I should have posted this years ago we have it all the time and it is so easy, kid friendly and GOOD!
I buy the cheap Fried Rice packets in the grocery store ( they are about $1) in the packet section, you know where the gravy and things are, or you can also find them by the Asian food section.
Then grab a bag or so of frozen vegetables. If I can't find a bag of stir fry veggies, I use peas and mixed veggies. Chop up a bunch of green onions and make about 3 cups rice.
The directions are on the back of the fried rice packets. But I always add to it!
In the silver bowl above is some chopped up chicken I boiled. You can use a rotisserie chicken and pull the meat off.
Add some butter to a pan and saute the onions and rice together for a little bit. Anytime we have rice for a meal I always make double so that the next night I can make fried rice with the leftover rice.
Then when the rice pops a little, move it all over to the side, position the pan over the heat on that side and pour in a couple eggs, scramble them right in the pan.
Next add the seasoning packet and I add about double the soy sauce ( if not more!) they call for and mix it all up.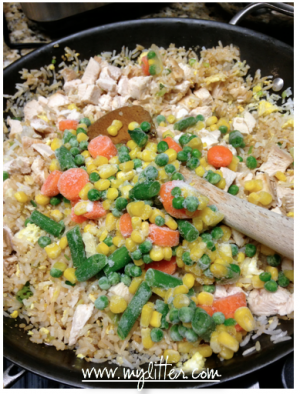 Dump in any chicken, pork, beef, or even shrimp you have cooked. Now open the bags of veggies and toss those in. I add mine frozen, leave the heat on it and let them unthaw. I will also place a lid over it to make sure the veggies are not cold.
I also always add a can or two of sliced water chestnuts. I LOVE them and my kids love the crunchy texture. You can add some salt, pepper and more soy sauce if you want as well.
Guys, this is SOOOO super easy and takes about 20 minutes start to finish and it is a FAVORITE meal at my house! Give it a try!