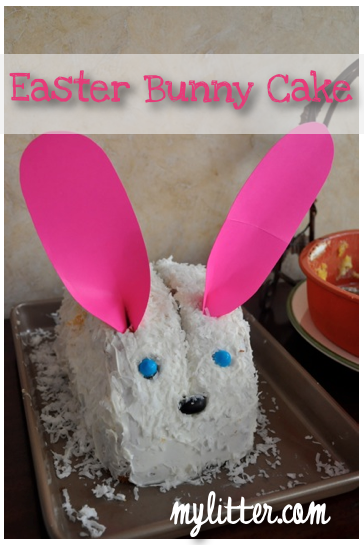 My Brother in Law, Jeff, made this Easter Bunny Cake last Easter and it was such a hit with the kids, they asked for it at their birthday's!  His Mom has made this for him every Easter since he was little. This is a SUPER easy cake made with a cake mix and tub of frosting!  You can even take the coconut and dye it green to make grass.
Betty Crocker Bunny Cake
INGREDIENTS
1 box carrot cake mix ( or which ever kind you want)
Water, vegetable oil and eggs called for on cake mix box
Tray or cardboard covered with wrapping paper and plastic food wrap or foil
1 container Whipped fluffy white frosting
1 cup shredded coconut
Construction paper
Jelly beans or small gumdrops, as desired
1cup shredded coconut
Green food color
Heat oven to 350°F. Make, bake and cool cake as directed on box for two 8-inch or 9-inch round pans.
Reserve 1 layer for another use or to make a second bunny. Cut 1 layer in half and put halves together with frosting to make body, standing up on the edges you cut.
You can try and shape a head on the bunny by cutting out a notch about one-third of the way up one end of body, to form a head. But we just frosted the front and made a face.  Frost with remaining frosting, rounding body on sides. Sprinkle with 1 cup coconut. Cut ears from construction paper; wrap ends that will be inserted into cake with plastic food wrap. Use jelly beans for eyes and nose.
Shake 1 cup coconut and 3 drops food color in tightly covered jar until evenly tinted. Surround bunny with tinted coconut. Add additional jelly beans if desired. Remove ears, plastic wrap and toothpicks before serving. Store loosely covered.