Who all plans on making food this week? I am sure that most of us do. I wanted to get a round up of some easy and good meal planning ideas that you can use to plan your menu. Personally I am using my crock pot big and bad this week. I have so much to do and don't want to spend any extra money that I am tossing stuff in, early in the morning and heading out for the day or spending the day playing with the kids.
Anything that I can make ahead of time I am making. Such as snacks, appetizers and side dishes that can be frozen or site in the fridge for a few days. I want to spend as much time OUT of the kitchen as possible.
We make a LARGE Christmas morning breakfast and good size dinner later in the day. Usually it is Ham and sides with dessert. Smaller than Thanksgiving but still a nice meal. Here are some ideas: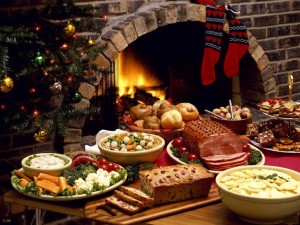 ::Breakfast::
Breakfast Casserole ( This can be made the night before, actually it NEEDS to be made the night before!)
Cinnamon Rolls ( I make these the night before, leave them in the fridge overnight to rise and put in oven in the morning. This is the Pioneer Woman's recipe, I cut the butter in 1/2… and I like butter!)
Baked French Toast ( Make this the day before)
Monkey Bread (This is the recipe with the Rhodes Rolls and butterscotch pudding, make this the night before… AWESOME!)
Breakfast Tacos  (We use Chorizo but you can use any pork sausage or bacon)
::SNACKS::
** All of these can be made ahead of time and stored in an airtight container until you are ready to eat them!
Ranch Oyster Crackers ( Soooo easy and my husbands favorite!)
Buckeye Balls (Oh my! These are amazing, make double you will need them!)
Easy Fudge (If you think you can't make fudge, you can! This is the easiest fool proof recipe EVER! I make PANS of it every year and it keeps forever!)
Home Made Chex Mix (So much better than store bought! Coupon HERE)
Holiday Pretzel Treats ( I made these the other day and it was so easy, plus you can make a TON of them at a time and they look really cute!)
Velveeta Sausage Dip ( This is nice because you can just toss it in the crock pot and eat all day)
Honey Glazed Chicken Bites  (Again the theme is make ahead and pop in the oven when you want to eat them)
::DINNER::
Twice Baked Potatoes (These can be made ahead of time and frozen until you are ready to bake them)
Mashed Potatoes (This can also be made ahead and put in a crock pot)
Oven Roasted Red Potatoes and Asparagas 
Acorn Squash and Bacon (Paul's favorite side dish and my VERY first blog post ever!)
Bread Pudding (Always a crowd pleaser!)
Now, once you have an idea of the items you will be making, start thinking about the things that you can make ahead of time. The snacks can be made even today and kept in an airtight container until this weekend. Make the twice baked potatoes today and freeze them until the day you need them, pull them out and pop them into the oven and they taste just like you made them that day!